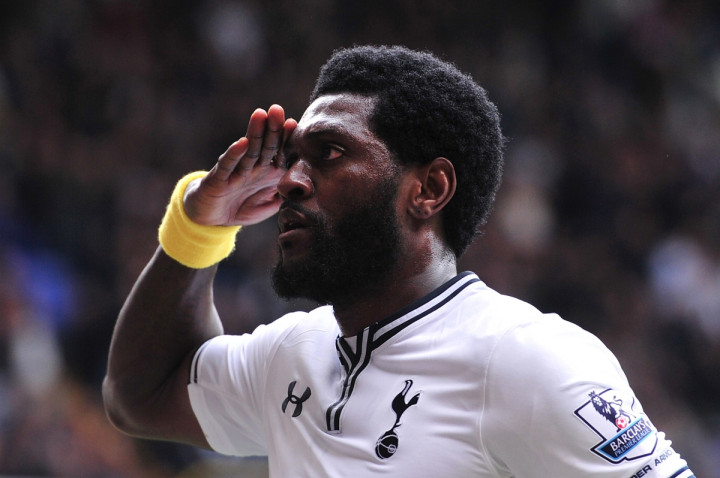 Emmanuel Adebayor has denied criticising Tottenham Hotspur fans in recent comments made over their lack of support for the team at White Hart Lane.
Mauricio Pochettino's side suffered their fourth home defeat of the season to Stoke City on Sunday, prompting Adebayor to jump to the defence of his manager and suggest the club would perhaps be better playing games away from their home ground to escape the negative atmosphere.
The 30-year-old has moved to clarify his comments, however, insisting it was never his intention to condemn supporters.
"I would like to clarify some recent reports in the newspapers," the statement read. "I have never criticised Tottenham fans. I just merely suggested that it would be more positive if they got behind the team more.
"I love the club as do all the players in the dressing room. We would all do anything to make this team win but like most people we respond better to praise than criticism. We will get this right. Please bear with us and we will improve."
Tottenham players were booed off the pitch at half time and full time during Sunday's defeat, a response which drew a frustrated comments from Adebayor.
"When you are playing in front of your own crowd you want them to support you, but now it is like going through a sad moment and your family not welcoming you home," said Adebayor post-match.
"That's the worst thing ever because you have nowhere to go. At the moment I don't know whether we should play at home or whether we should play away."
Tottenham's latest defeat, their fifth of the season, leaves them sat 12th in the league with a trip to Hull City to follow after the international break before they welcome Everton to White Hart Lane.
"[At Hull] at least you know I am going to be having the majority of opposition fans booing me rather than our own fans booing me," Adebayor added. "And I am not just talking about me, I am speaking on behalf of all the players.
"I think it might be better to play away from home at the moment because at least we know beforehand we are guaranteed to be booed because they want their home club to win."