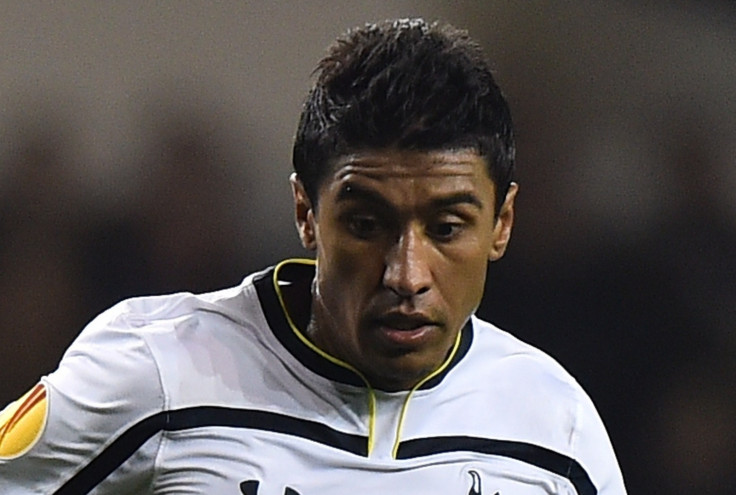 Tottenham midfielder Paulinho has revealed that he almost left the north London club during the January transfer window.
The Brazilian midfielder, who joined the club in the summer of 2013, has struggled to nail down a place in the starting lineup under new manager Mauricio Pochettino this season.
He has made just 11 appearances for the club in the league this season, and has completed 90 minutes just once. Paulinho has now confirmed that he almost left the club in the winter window, but made it clear that he did not at any time try to force a move away from the club.
But the Brazilian international insists that he is now happy at north London and is willing to take advantage of every opportunity he gets to play before the end of the season.
"There were a few moments early in the season when I was not playing, but, as always, I did my job and now I'm taking advantage of the maximum possible matches I am selected in. I had a good game again against Fiorentina, despite being a bit tired in the second half because of a knock I took," Paulinho said, as quoted by Goal.
"I was close to leaving, but at no time was I asked [by Tottenham] to go. When the transfer window opens, every player can leave his club and find another challenge. With me it was no different."
The former Corinthians midfielder has admitted that there were clubs from Europe and Brazil, who were interested in signing him, but he along with his family decided to remain at White Hart Lane for the rest of the season.
"They had clubs in Brazil and Europe, but I, along with my wife who is pregnant again, and my representative, decided to continue for the final months of the season. I'm happy, but of course in the beginning when you are not playing, you get a little down. I was kind of p*****, but not with anyone. I just wanted my space," the Brazilian explained.
However, the midfielder, who is struggling for game time in England has refused to rule out a move away from the club in the summer, and has guaranteed that he will decide his future plans before the end of the current campaign.
"For the clubs that I've played for I always tried to fulfill my contract. If I'm going to keep to that [with Tottenham] or not, I do not know," he added.
"It's hard to talk about the future. But I guarantee by the end of the season [his future will be resolved]. I do not know if next season I will continue here or not," Paulinho concluded.