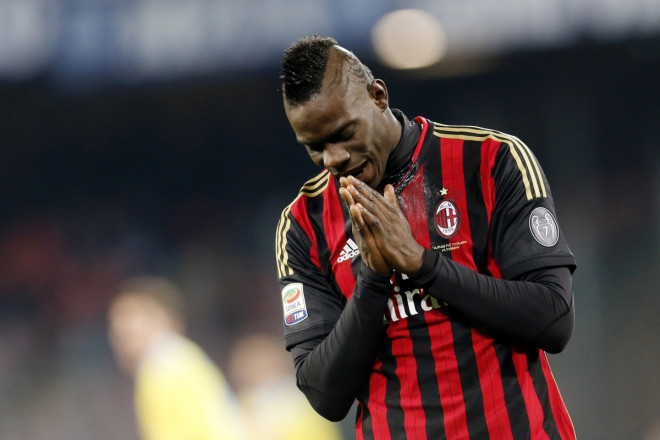 Tottenham are planning to offer Erik Lamela to Milan in a swap deal that would see Mario Balotelli move to White Hart Lane next summer, reports in Italy claim.
Spurs made the Argentinian starlet their club transfer record last summer, after paying £30m to Roma as part of the big overhaul that followed Gareth Bale's departurte to Real Madrid.
But the 21-year-old forward has failed to make the impact expected and a number of Serie A clubs are reportedly offering him a return to Italy, as he excelled during his time there.
According to Italian outlet Media Set, Spurs Technical Director Franco Baldini is considering taking advantage of Lamela's big profile in Italy to work out an exchange deal with Balotelli.
After Jermain Defoe's departure during the latest January transfer window and with Roberto Soldado failing to prove his value, Tottenham are looking to take on another striker in the summer and the deal could be seen as a win-win for both Spurs and Lamela.
The Argentinian striker scored 21 goals in 67 games at Roma before his move to North London. And last January his father admitted that he is likely to return to Italy.
Lamela has started just three Premier League games for Spurs this season and is currently out of action due to injury.
Meanwhile, Balotelli may also consider a return to the Premier League, as Milan are ninth in the Serie A and they probably will not play European competitions next season.
The former Manchester City striker recently revealed he misses England and the Premier League.
Balotelli told online football website FourFourTwo: "I miss the fans. I'll tell you what I don't miss, though. I don't miss the food, or the weather, or the stupid way you're always expected to drive over there... But yeah, the City fans, I miss them. Even though the Milan fans are just as good.
"I have to say, most of my memories of Manchester are really happy ones. I enjoyed myself there. It wasn't that much of a culture shock for me to go to England. There's not a great deal of difference between the two clubs."