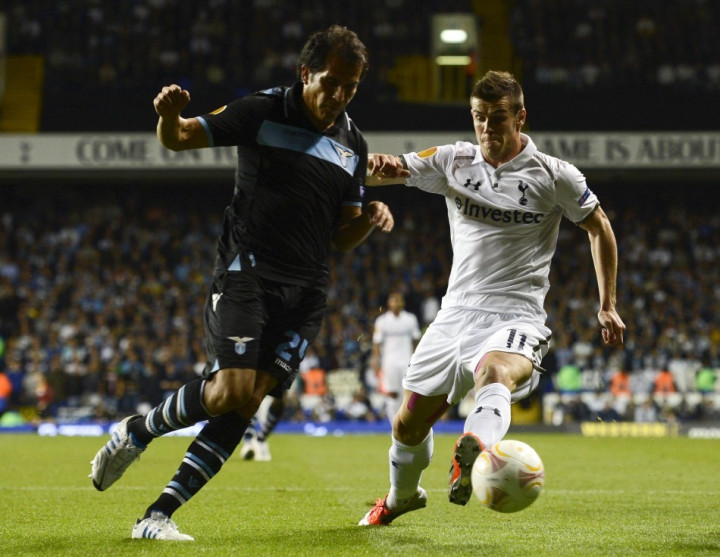 Spurs' Gareth Bale has urged his team to carry over the fine form they displayed against Lazio in the midweek Europa League game when they welcome QPR to White Hart Lane. Tottenham completely dominated the Italians in the opening game of the Europa League's group stages and were unlucky not to win after having three goals rules out for fouls.
The club had a poor start to the season, losing their opening game to Newcastle and failing to record either wins or convincing performances in the games that followed. However, Bale is hopeful the strong showing against Lazio (following on from the first win of the season, against Reading in the game before that) will inspire his team mates to better results.
"We want to build on our win against Reading and take our form into the next game, which is QPR. It's important we get the win and keep that run going in the Premier League," the Welshman explained, "Lazio are right up there in Serie A, so it was a good performance. We were unlucky not to get a couple of goals, so that was disappointing, but we'll take the positives into QPR."
Friedel is Angry
Tottenham goalkeeper Brad Friedel has criticised Fabien Barthez for comments over the goalkeeping face-off at White Hart Lane. Barthez, who played for Manchester United between 2000 and 2004, has called on Spurs' manager Andre Villas-Boas to play his compatriot, former Lyon and present French national team captain Hugo Lloris instead of the 41 year old Friedel.
Lloris, 25, signed for the London club on transfer deadline day, but has since been relegated to a position on the bench and only made his debut recently, in Spurs' draw with Lazio in the Europa League. AVB has confirmed the Frenchman will have to accept he is back-up to Friedel for now, a situation that led to comments also from France national team coach Didier Deschamps. Friedel, meanwhile, declared he was ready to fight Lloris for a first team place.
"Lloris is one of the five best goalkeepers in the world. He is faster than Friedel, he jumps higher, and he is very strong mentally. What is happening now is incomprehensible, but I am not concerned," Barthez told French newspaper Le Parisien, adding, "He will become the centre-piece for the club. Hugo is a calm guy, a good worker. Tottenham will not let him stay on the bench for a long time."
Friedel's response was a tweet: "Just saw Barthez comments. I normally don't comment on such crap, but when disrespected by someone I don't respect I must. Barthez was ignorant, disrespectful and out of order to mention my name."