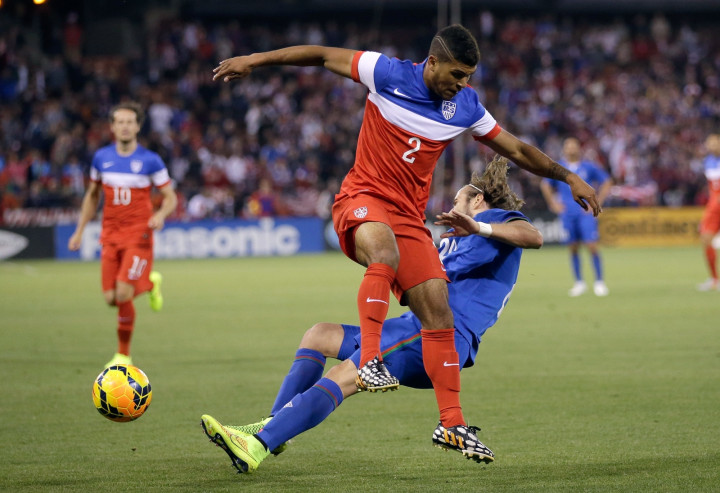 Tottenham Hotspur are reportedly closing in on completing their fourth signing of the summer transfer window after agreeing terms with Seattle Sounders for DeAndre Yedlin.
According to Goal.com, the 21-year-old completed his medical on Friday before his proposed switch to White Hart Lane. The north London club have already sealed deals for Ben Davies, Michel Vorm and Eric Dier this summer.
Tottenham's new manager, Mauricio Pochettino, wants to bolster his squad in order to challenge for a place in the top four next season. Yedlin was a part of the USA squad for the 2014 World Cup in Brazil.
The defender made three appearances for his national side and all of them came from the substitutes' bench. His form in the summer tournament in South America has attracted interest from Tottenham.
The right-back will continue with the Major League Soccer side for the rest of the MLS season till January and will join the Premier League outfit after the start of the next year.
The Daily Mail claims Tottenham's league rivals Liverpool are also interested in signing Yedlin, while Serie A outfit AS Roma were long been favourites in capturing the right-back's services.
However, Pochettino is set to beat Liverpool once again in the ongoing transfer window. The White Hart Lane club were successful in beating the Reds in signing Davies from Swansea City.
Should Tottenham complete Yedlin transfer, it will be for the second time that the north Londoners will be able to beat Brendan Rodgers' side in materialising a transfer.
Meanwhile, former Tottenham stopper Kasey Keller has urged Yedlin to snub a chance to join Pochettino's side this summer.
"Spurs is a tricky place to play. They're a team that has a lot of turnover in players. Spurs are a team that has the money, and they are always looking for a bargain, but it's a tough place to go," Keller told Goal.com.
"I just want to see young American players play regularly, week in and week out. If that's at Tottenham, great. But if it's not, then it's not the right move. It's hard to develop if you don't play.
"I'm not sure DeAndre would even qualify for a work permit. He's never started a game for the national team, [England] is a tough place to get a work permit.
"My guess would be that if Tottenham is in the race, it would be to sign DeAndre and loan him out somewhere," he concluded.