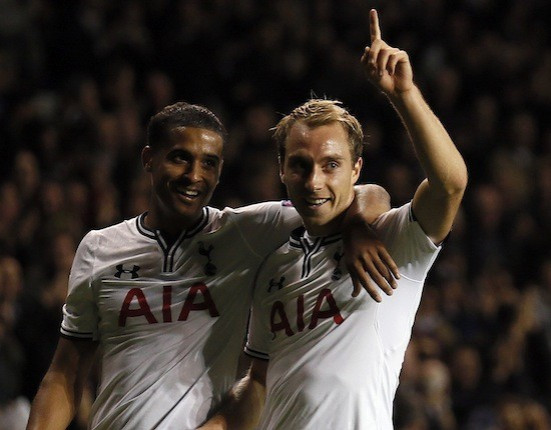 Wesley Sneijder has claimed that Christian Eriksen has already vastly improved since his move from Ajax to Tottenham with the Holland star admitting that the Eredivisie can only produce players with the potential to achieve greatness.
Eriksen made the move to White Hart Lane in the final days of the transfer window and has since been a standout signing for the club, settling in quickly and having already scored for the side as they currently sit in fifth place in the table.
His move from Ajax was heavily speculated upon as his contract was set to run out in the summer of 2014. Many at the Dutch club said they hoped he would stay but despite admitting he was particularly picky over his next move, Eriksen has made it clear for over 12 months he wanted to take the step of moving to a league like the Premier League or La Liga.
And Sneijder, who began his own youth and senior career at Ajax before making the move to Real Madrid in 2007, agrees that in order to become a great player one must move away from Holland.
Asked by Nusport what he thought young Dutch players should do, Sneijder said: "If they want to grow, they should follow Eriksen's example. The guy you see in the first few weeks at Spurs, he flourishes again. Unfortunately he couldn't in the Netherlands."
The Galatasaray playmaker also added that he believes it will get worse for Dutch teams which are becoming full of promising youth rather than big stars.
"In the future it will only get worse, I think," he explained. "I debuted at Ajax in a team with only physically strong, experienced guys. You came to training and every day you left stronger. Jan van Halst tried to address each workout and then you were even better.
"Now the average age is at most 22 years."
Eriksen's move to Tottenham will no doubt be watched closely by other Ajax players who also dream of making the move to the Premier League, with the Denmark international having reportedly turned down moves in the past to the likes of Manchester City in order to make sure he would get a decent chance to shine on the pitch when he chose his destination.