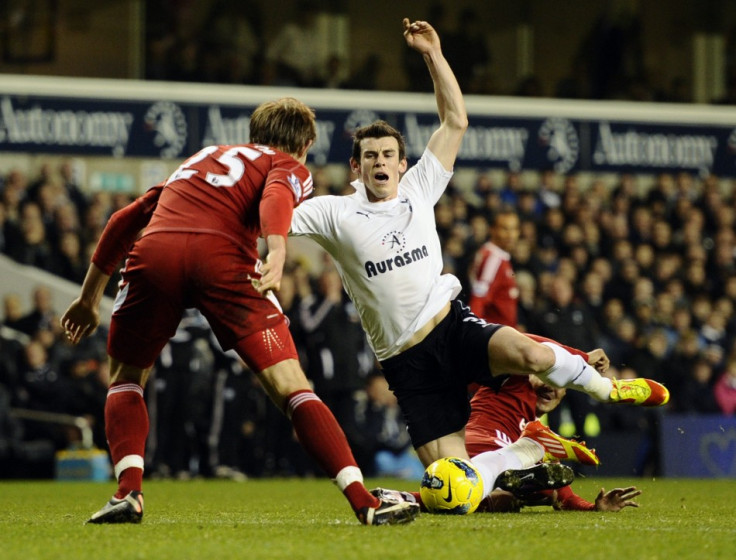 Tottenham midfielder Gareth Bale has refuted suggestions he is a chronic diver and claims he goes to ground so often because he is trying to avoid a career-ending injury.
Last month, former Premier League referee Graham Poll called on Bale to be retrospectively punished for simulation after the Spurs midfielder won a highly-controversial penalty in the 5-2 defeat to Arsenal.
Bale came under heavy scrutiny during the match when he fell dramatically under Arsenal goalkeeper Wojciech Szczesny's challenge as he ran on to a through ball from Tottenham team-mate Luka Modric.
Replays subsequently showed minimal contact between the two players and Poll called on the Football Association to review the incident and ban Bale for diving.
However, the Tottenham winger insists that accusations of diving are misplaced and insists he only goes to ground so often because he is trying to avoid late challenges from opposition players.
"If people want to say I'm diving then they can, but I'm trying to get out of the way and save myself, save my career if you like," Bale is quoted on ESPN Soccernet. "It's a bit annoying (when people say I dive) but you've got people flying in at you, you're trying to get out of the way of the challenge. If you stand there, you're going to get a whack.
"You can see why people say you're diving but I'd rather get out of the way than get hurt, that's what it is. It's football, a contact sport, things do happen and you've got to try to be clever with it.
"I'm more likely to try to get out of the way and not get hurt, rather than get hurt. I tend not to dive."
The Tottenham midfielder added: "People want to take you down and get you out of the game and I suppose you can take it as a compliment. It's not nice but I think it's to be expected now. In a way they think that's the only way they can stop you. You get up and get on with it like the best players do and go at them again.
"You get used to it. I've got a few people sent off by doing that this year. You get up and get on with it; it's a part of the game."