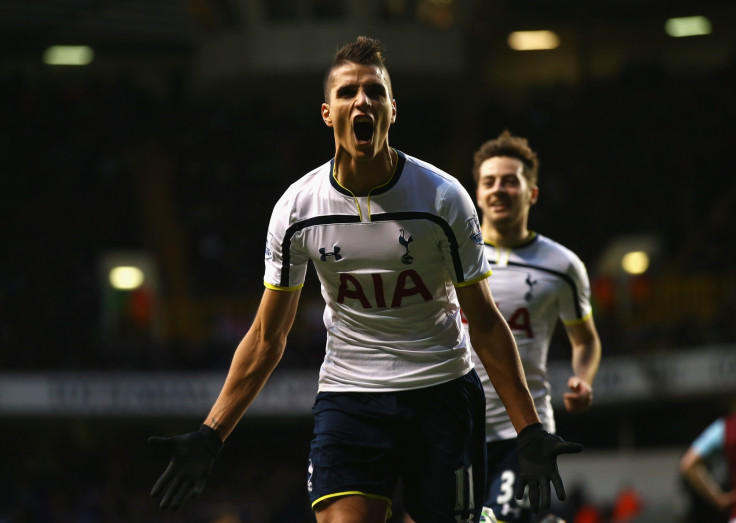 Erik Lamela, Tottenham Hotspur's record signing, has told IBTimes UK the lack of training at Spurs during his debut campaign at White Hart Lane under Andre Villas-Boas did not allow him to demonstrate his ability last season.
Spurs paid a club record of £26m to Roma to secure the services of the Argentina international in the summer of 2013 as part of the mass overhaul that followed Gareth Bale's departure to Real Madrid.
But the 22-year-old forward failed to make the impact expected under Villas-Boas, and he was out of action during much of the second part of the campaign due to an injury when Tim Sherwood was in charge.
Lamela was reportedly expected to leave the club last summer but he stayed at Spurs and has become an important player for manager Mauricio Pochettino, having started 17 Premier League games this season.
When questioned by IBTimes UK about the reason behind his first-season failure, Lamela said: "I do not know.
"Maybe it was my fault at some point but I never had the training sessions to do it better. There was a lack of training to [help me get] fit. This year, the sessions are helping me a lot and obviously [there is] the continuity of the games too.
"There has been a big change from last season. I started last season without playing and never had the chance to do it..."
The Argentine believes Pochettino's hard training sessions are making the difference this campaign as it was demonstrated during the impressive 2-1 victory over Arsenal on Saturday 7 February.
"The hard training sessions eventually make the difference in the long term. On the ground you can appreciate when a team is well-worked and you see it against Arsenal. We hope to keep the run and keep improving. We cannot relax," he said.
"Pochettino is doing a really good job. We pressed a lot. We didn't let them play. We are playing good football and with a lot of character. We played a great game. We were very aggressive and really deserved the victory."
Nevertheless, Lamela admits that, with him only having scored one Premier League this campaign, he is still yet to replicate his best form in Serie A, where he scored 21 goals in 67 games.
"I think I can give much more. I always have to learn but with the training sessions and the games, I am sure I will reach it again," he said.
"I am just one more member of the squad. I am here to add something to the squad, playing or not playing. Last year I did not play what I expected but always had a good face and supported my colleagues until the last game. This year I'm happy but I want to score more goals, provide more assists... I have to be ambitious. Obviously, I can give much more."