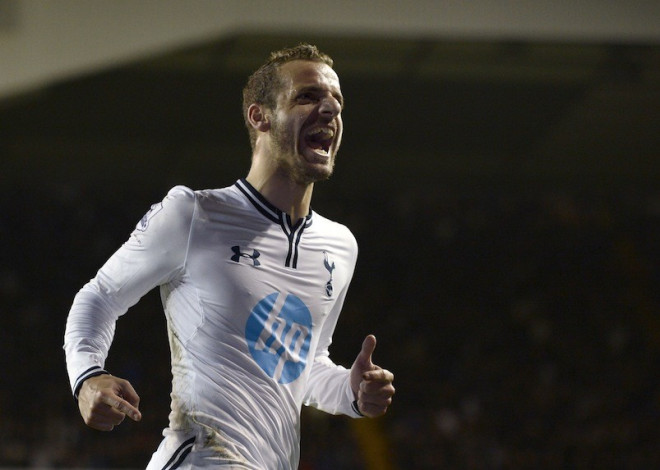 Roberto Soldado believes that Andre Villas-Boas' failure at Tottenham Hotspur earlier this season was due to the huge overhaul made at White Hart Lane following Gareth Bale's departure to Real Madrid last summer.
The Spanish stiker was part of that massive overhaul, arriving to north London alongside Erik Lamela, Christian Eriksen, Vlad Chiriches, Etienne Capoue, Nacer Chadli and Paulinho.
Soldado believes these massive changes required an adaptation and Villas-Boas didn't have enough the time to deal with it before being sacked and replaced by current manager Tim Sherwood.
"It was't an easy start. The team had many additions. There were eight new players comparing with last season squad and the team and Villas-Boas suffered that adaptation. He did what he could but the team didn't get the results we needed" Soldado told Spanish radio station OndaCero.
"After that adaptation period the team has started to play much better and now we are just six points away from our goal. This month is going to be crucial because we have direct clashes to get it."
Soldado has suffered during the transition and has failed to make the impact expected since joining Tottenham from Valencia for £26m.
Nevertheless, he has started the last two games and against Cardiff he scored a crucial goal to lead his side to a 1-0 victory. After a nine-match goal-drought, Soldado is grateful for the supporter's reaction.
"It was a long expected goal for me and especially for my teammates and the fans," he added.
"Despite been a long time without scoring the support that I have received in the social network has been amazing. Every time I touch the ball people are expecting to see the best of me and the reaction after the goal was amazing. I feel very loved here despite I haven proving anything to them.
"I still have time to change the situation. There are two months left, the most beautiful part of the season, and I hope to reach my top."
Asked about his partnership with Emmanuel Adebayor he said: "Sherwood started with 4-4-2 and we played together. Then he proved with 4-2-3-1 and I spent some games in the bench but I've played the last two games with him and I fell fine. Adebayor makes my job much easier."
Soldado has been recently linked with a return to La Liga. However, he claims that his desire is to stay at Tottenham and prove his worth.
"I have to face the challenge with maturity," the Spain international explained. "If I would experience this struggling situation at 22 year I would probably go back home one month later but not now
"It is a positive experience for me, for my family and for the education of my children. Furthermore, I think we have a great squad and I am convinced that we still can have a good season. I am the only guilty about my situation and hopefully I will improve it."