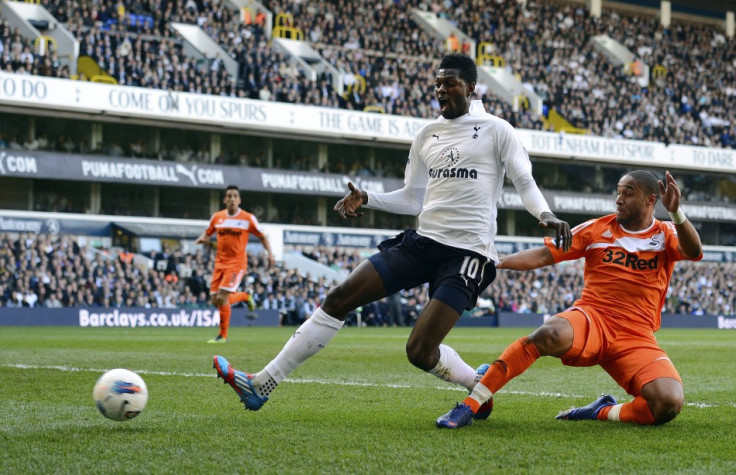 Manchester City's Emmanuel Adebayor continues to vacillate between Spurs and Roberto Mancini's side and any talk of a transfer taking the Togolese international from the Etihad to White Hart Lane has been dismissed, The Sun reports, for now. The player spent last season on loan with Spurs and enjoyed an impressive campaign under former manager Harry Redknapp, scoring 18 goals and recording 12 assists in 37 appearances for the club.
His performances were impressive enough for present manager Andre Villas-Boas to want a permanent deal with the former Arsenal striker and a transfer fee in the region of £6mn was agreed upon, the Daily Mail reports. However, it seems there were disagreements over the striker's wage demands. Spurs reportedly offered the 28 year old a deal worth £115,000 per week, which would have made him the highest earning player in the club's history but a deal has yet to be struck. Adebayor presently earns £175,000 per week at City.
Disagreements aside, a move to White Hart Lane remains Adebayor's best chance of first team football for the new season; he is unlikely to feature at City, given that he has not played for the first team there since December 2010 and faces competition from the likes of Sergio Agüero, Carlos Tevez, Mario Balotelli and Edin Dzeko. And for that reason, City, as much as Adebayor, will be keen on completing the transfer as soon as possible.
"Adebayor is back training with City along with Roque Santa Cruz, who between them are costing the club £280,000-a-week," a club source was quoted as saying, "City are as keen as ever to offload Adebayor and clear a space in their squad. Everyone expects a deal with Tottenham still to be done, it's a matter of when and not if."
Meanwhile, City have responded sharply to comments made by an individual named Sead Susic, who, claiming to be an agent of Bosnian striker Edin Dzeko, hinted at a possible transfer for the former Wolfsburg striker to Italian champions AC Milan. The club has denied claims Dzeko may leave and also knowledge of a Sead Susic.
"The club have no knowledge of Mr Susic," a City spokesperson was quoted by The Sun.
Staying with news about City, The Sun also reports that manager Roberto Mancini has cautioned his squad against complacency as they seek to defend their Premier League crown. In addition, he has also expressed a wish the club manage to win the title a little earlier this time around, rather than rely on last second heroics.