Sevilla striker and Premier League target Alvaro Negredo claims he is happy with the La Liga outfit but also admitted he could leave in the summer to ease the club's financial woes.
The 27-year-old was linked to both Tottenham Hotspur and Arsenal ahead of the January transfer window, while Everton failed with a £9m bid for the Spain international on deadline day. It is also understood an unnamed Premier League side made an £16m offer for the forward last summer.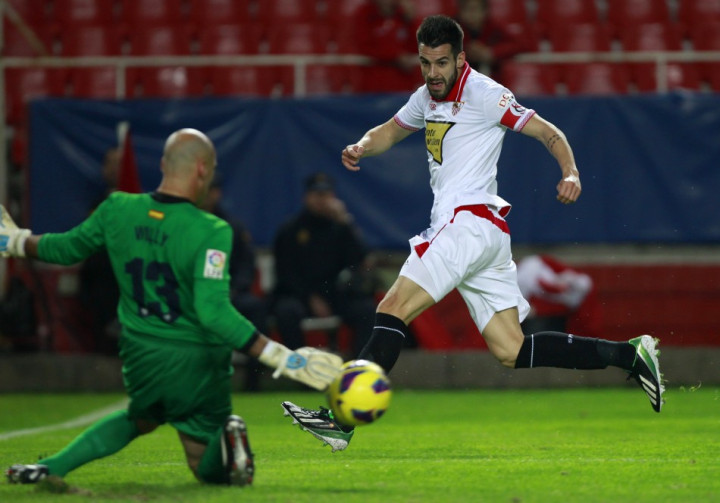 Negredo insisted he would not try to force a move away from Sevilla but stated he was aware the club could put him up for sale at the end of the season to generate funds to pay off a reported €50m debt.
"I'm happy here. This city and this team have given me a lot. In the end, we are all in the shop window. I want to finish the season here and then the president will decide. He will seek what is best for the club and if I have to leave then it is because he sees fit. But I am calm and at ease here. For better or for worse, we will all benefit," the striker said.
Negredo, who was part of Spain's Euro 2012 winning squad, has scored 20 goals from 31 appearances in all competitions for Sevilla this season. The former Real Madrid man is strong, both on the ground and in the air, and is known for smart link-up play and an excellent work rate.
Sevilla are 12th in the La Liga table and Negredo wants to help them clinch a Europa League spot for next season.
"In the end what matters is the collective. If I score goals but the objectives are not achieved, then they are useless. To not get into Europe would be a big setback. First for the prestige of the club and second for the economic contribution. We have to remain calm as not entering Europe would be a big setback," the player added.