Former Tottenham striker-cum-La Liga expert Gerry Armstrong has claimed he advised his old club to take Michu from Spanish side Celta on a free transfer, but they turned the opportunity down
Michu's move to Swansea, which cost £2 million, could prove to be the transfer of the season, with the striker's 11 goals propelling the Welsh side to a very respectable eighth place in the table.
And Armstrong says the 26 year old, who has received nothing but praise since moving to England, could have wearing of the white of Spurs rather than Swansea had the north London club followed his advice.
"It was 18 months ago when I told three or four clubs in England about Michu," he told ESPN. "He was playing for Celta Vigo in the Spanish second division and the ex-Newcastle centre back Marcelino and I were chatting about how good a player he was and as a free transfer some club in England would benefit from his goalscoring.
"With one goal every two games and at 6ft 4ins tall Marcelino talked to clubs about him, but no one showed interest, so he signed for Rayo Vallecano and finished top goalscorer for them last season.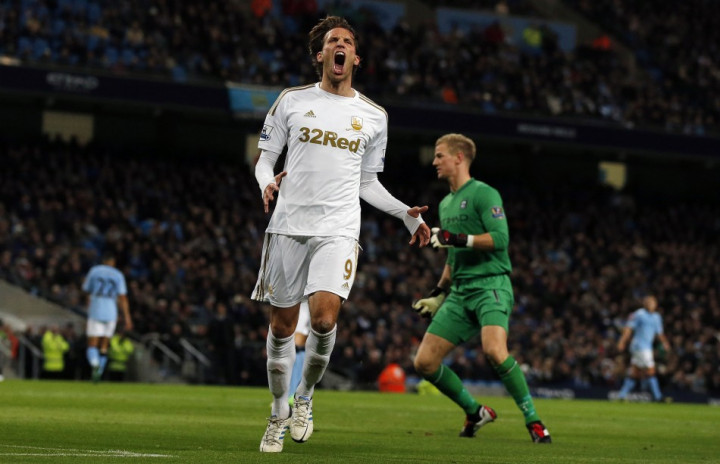 "Again I spoke to clubs and recommended him to Spurs. Michael Laudrup and I spoke about him while watching La Liga last year, and shortly before he was appointed manager of Swansea knowing he had a buy-out clause of €2.5 million. Well done Michael for having the courage of your convictions and taking a chance on Michu.
"He has to be the best signing of the Premier League last summer and must be valued at £25 million to £30 million as he is the top scorer in the Premier League to date so far and getting better all the time. Eat your hearts out, Spurs, and listen the next time you are offered a gem like Michu."
Tottenham are said to be in the market for a striker to help create some competition for the likes of Emmanuel Adebayor and Jermain Defoe.
And though they missed out on Michu, the club are believed to be looking abroad for reinforcements, although Andre Villas-Boas admitted there might not be any purchases with players coming back from injury and needing to be slotted back into the squad.