Tottenham have not agreed a deal for Wesley Sneijder, Dutch press claims, with the playmaker demanding a wage which is far too high for Spurs to match as the January transfer window edges closer.
Sneijder looks set to exit Inter Milan in January, with the club unable to agree a new deal with the playmaker. While they have offered a new contract, the pay cut would result in him playing an extra year for the same package he is currently on, and as the Dutchman refuses to sign he has been left in the cold by coach Andrea Stramaccioni, though the club insist the contract dispute isn't the reason for leaving the £250,000 a week star on the bench.
Reports this week had speculated that while Manchester United and Manchester City have both long been connected to the Holland international, Tottenham made a shock move and agreed a deal for Sneijder to finally make a move to the Premier League, as Andre Villas-Boas looks to build on the club's attacking options.
But Dutch news agency AD.nl claims sources have insisted the reports of a move to Tottenham are unfounded, claiming there is "nothing, absolutely nothing in that."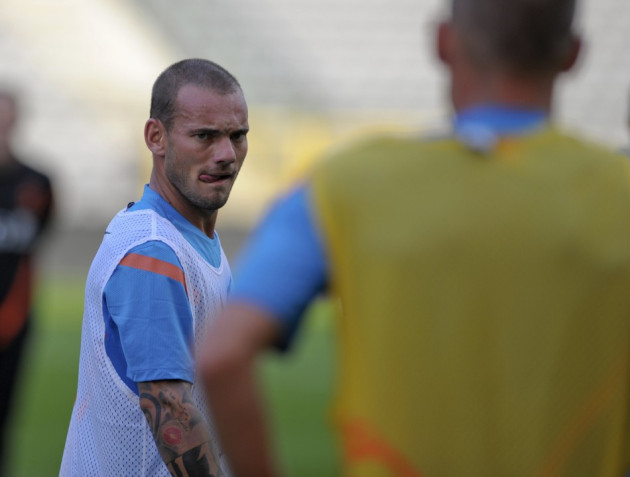 The source also claims that despite Inter refusing to pay Sneijder's wage bill, he will demand a sky high amount wherever he goes, claiming: "The midfielder at Inter earns an annual salary of about ten million, an amount which only the absolute top clubs could live up to - and otherwise just some Russian superpowers."
Sneijder's wage demands were believed to be the problem with a deal with United back in the 2011 summer, and though he was heavily connected with a move to the club to become a replacement for Paul Scholes, Sir Alex Ferguson continually insisted that he was not a realistic target for the English giants.
But as he continues to miss out on playing time at Inter, Sneijder may get to the point as January reaches its end where he must make a compromise on his personal gains in order to show why he was nearly worth the £35 million switch to United in the first place.