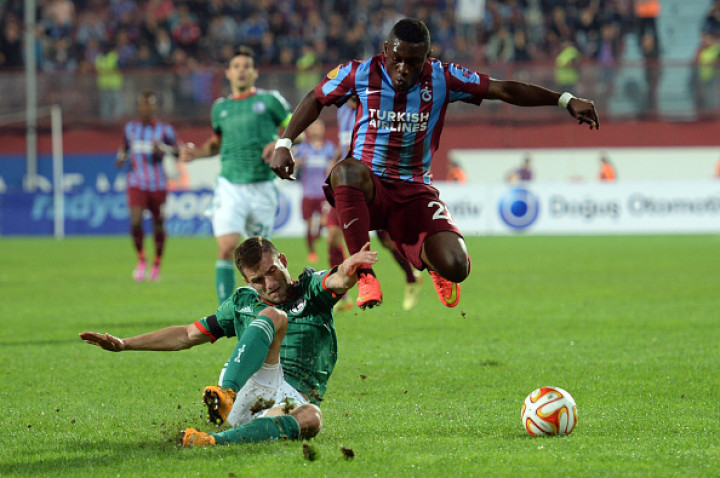 Trabzonspor chief executive Burak Gurdal has confirmed Manchester United are monitoring their striker Abdul Majeed Waris.
The 23-year-old made a switch to Super Lig from Spartak Moscow earlier in the summer transfer window. During the Turkish club's Europa League fixture against Lokeren last week, United assistant manager Ryan Giggs was reportedly scouting the Ghanaian international.
Reports now say the 20-time English champions are interested in signing Waris. Gurdal claims United are watching several of their first team players and they are not planning to let Waris leave Trabzonspor.
"We have not have any direct offers however, we know Manchester United are scouting Waris and keeping close tabs on him," Gurdal said, according to the Manchester Evenings News.
"Not just Waris, we have a few players are being closely watched. We only signed Waris two months ago and are not interested in selling right now, but you never know what will happen in the future."
Waris' agent, Phil Radley, earlier confirmed that he was unaware of any reported interest from Louis van Gaal's side. However, the African striker's representative has admitted that he is not surprised by interest from the Premier League for his client.
"I wasn't aware of Manchester United travelling to the Europa League fixture - but Premier League interest does not surprise me," Radley told Goal.com.
"There were Premier League clubs looking at Waris in the summer, but he was unlucky at the World Cup - he picked up a thigh injury in Ghana's final warm-up game - were it not for that he would have started alongside Asamoah Gyan and then I think those clubs would have come in for him."
"Waris certainly has the qualities for the Premier League - he is very quick and strong. Clearly he is a proven goal threat, but he is also a real fighter who never gives up and will chase down lost causes and put himself in dangerous areas.
"Trabzonspor bought Waris for €6 million in the summer and turned down an offer of €11m [8.6m] from UAE almost immediately after they signed him - so clubs can certainly see his value," Waris' agent said.