The UN refugee agency (UNHCR) said investigations into a mass food poisoning at a refugee camp in Iraq will shed light on the causes of the "tragic" incident and prompt aid agencies to reinforce public health protocols.
People at the Hasansham camp, northern Iraq, started vomiting and became dehydrated after eating a meal to break the fast observed during the month of Ramadan.
Health officials told AFP that 752 cases of food poisoning and two deaths, a woman and child, were recorded at the camp.
However, the UN refugee agency (UNHCR)'s Baghdad office and the head of the health ministry in the northern Iraqi city of Arbil later said there were no deaths and a child who had fainted was reported dead "by mistake", AFP continued.
"We are waiting for the police investigations to understand clearly the chain of events and to draw lessons from this tragic incident which will allow agencies to reinforce public health protocols to prevent such situations in the future," the UN refugee agency (UNHCR) said in a statement
The food served at the camp was part of an Iftar meal, which breaks the dawn-to-dusk fast. It included rice, yogurt, chicken and soup that had been bought from a restaurant in the area, according to the International Organization for Migration (IOM).
UNHCR said it was working to ensure those who had fallen ill could receive medical treatment. It added more than 200 people had been transported to nearby hospitals.
A woman who received treatment at the camp told the organisation's staff: "We felt stomach pains as soon as we ate. We felt we couldn't breathe and then saw that our neighbours were all suffering at the same time".
The Hasansham camp, which hosts more than 6,000 people, is situated near the town Mosul, where Iraqi troops are fighting against militants from the Isis terror group.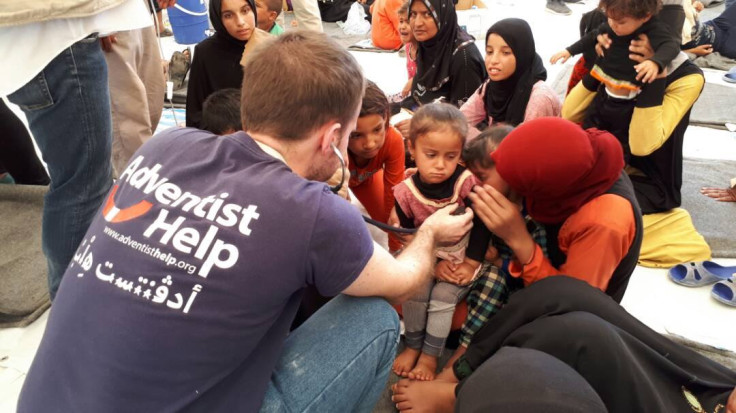 The Iraqi army, the Kurdistan Regional government and a US-led coalition are also involved in what is known as the 'Battle for Mosul': A joint military offensive that began in October 2016 and aims to retake control of the town, which Isis seized in the summer of 2014.
The army recaptured eastern Mosul in January and it is now fighting to retake control of the western part of the city.
The UN has said that at least 750,000 people have fled since operations to recapture Mosul began.
The organisation said in May that another 200,000 people could be displaced by the conflict as military operations move closer to Mosul's Old City area.
A coalition led by the US has been helping the Iraqi army in the fight against the terrorists since October 2014.