At least six people have been killed in a huge fire which engulfed the 24-storey Grenfell Tower in the Latimer Road area of North Kensington, west London. Metropolitan Police say the death toll is expected to rise. Police commander Stuart Cundy said he can "confirm six fatalities at this time but this figure is likely to rise during what will be a complex recovery operation over a number of days." At least 74 people have been taken to hospitals.
Fire Commissioner Dany Cotton called the fire an "unprecedented incident" and said she had never seen anything on this scale in her 29-year career. She told reporters: "At this time I am very sad to confirm that there have been a number of fatalities, I cannot confirm the number at this time due to the size and complexity of this building." London Fire Brigade said the fire engulfed all floors from the second to the top of the block which contained 130 apartments.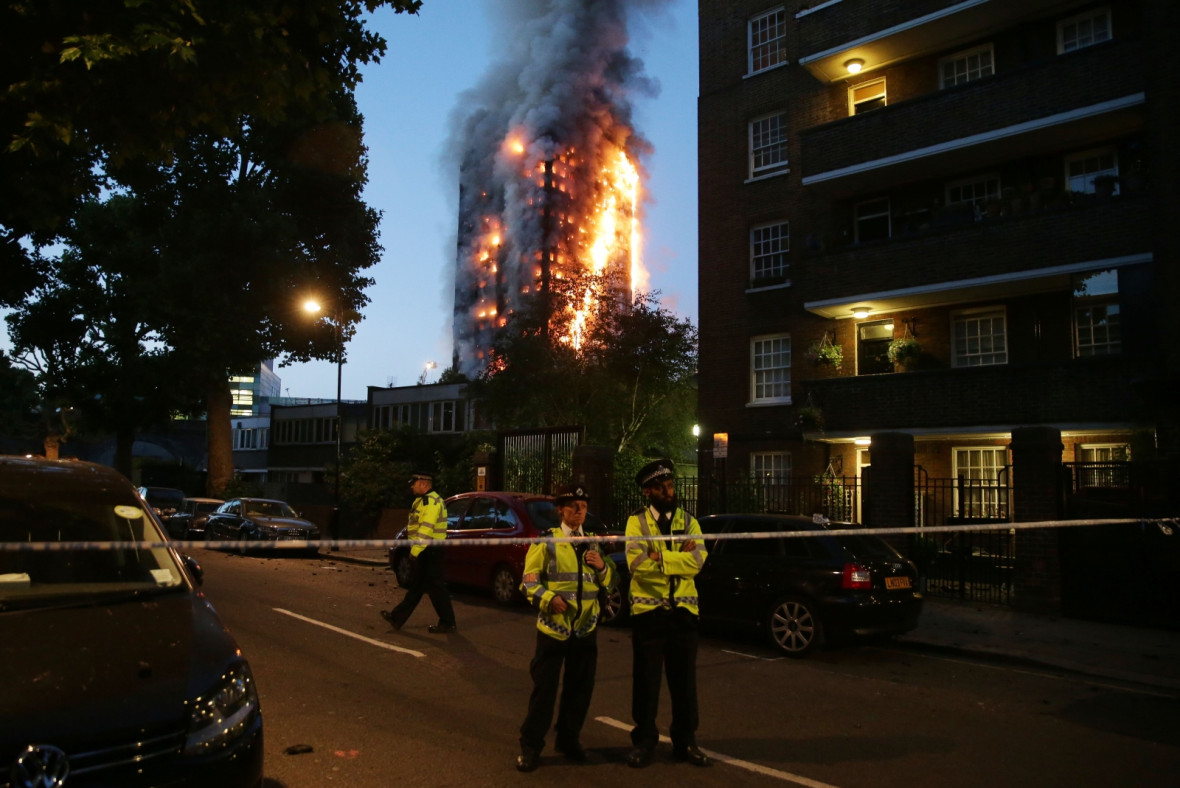 Some people are believed to be trapped in the burning building, with residents desperately shouting for help from windows on upper floors as the fire spread, according to eyewitnesses. Some said they could see people inside using flashlights and mobile phones to try to signal for help. One witness told Reuters she feared not all the residents had escaped the fire. Some were evacuated in their pyjamas.
People living nearby said that they saw people jumping from the upper floors. People at the scene spoke of being unable to reach friends and family inside. Others Residents told of how they woke up to the smell of burning and rushed to escape through smoke-filled corridors. Some said no fire alarm sounded.
"There were no fire alarms," said Edward Daffarn 55, who was warned by a neighbour to flee. "There was heavy smoke in the hallway. I could not find the stairs."
A witness said she saw a member of the public catch a baby that was dropped from the burning tower block. Samira Lamrani told the Press Association she saw a woman try to save the baby by dropping it from a window on the ninth or 10th floor. She said: "People were starting to appear at the windows, frantically banging and screaming. The windows were slightly ajar, a woman was gesturing that she was about to throw her baby and if somebody could catch her baby. Somebody did, a gentleman ran forward and managed to grab the baby."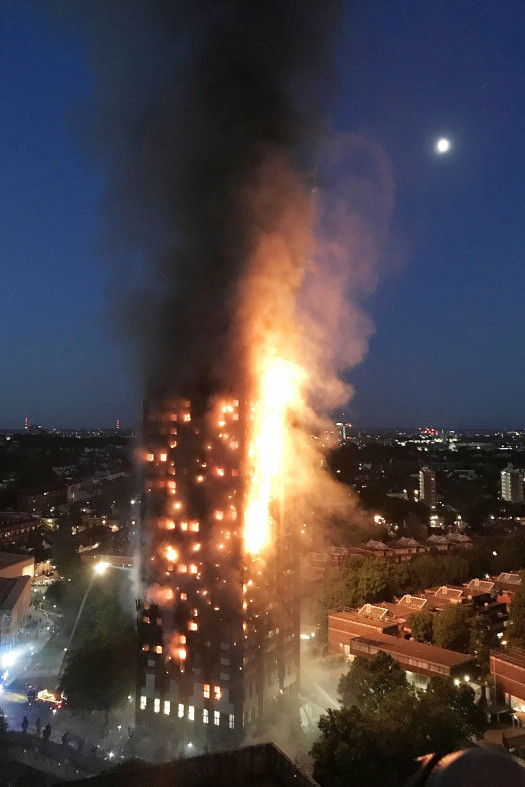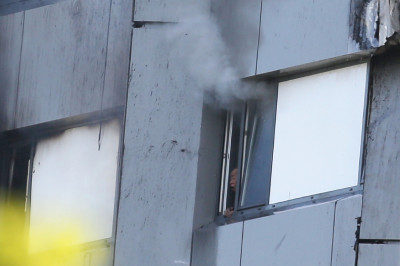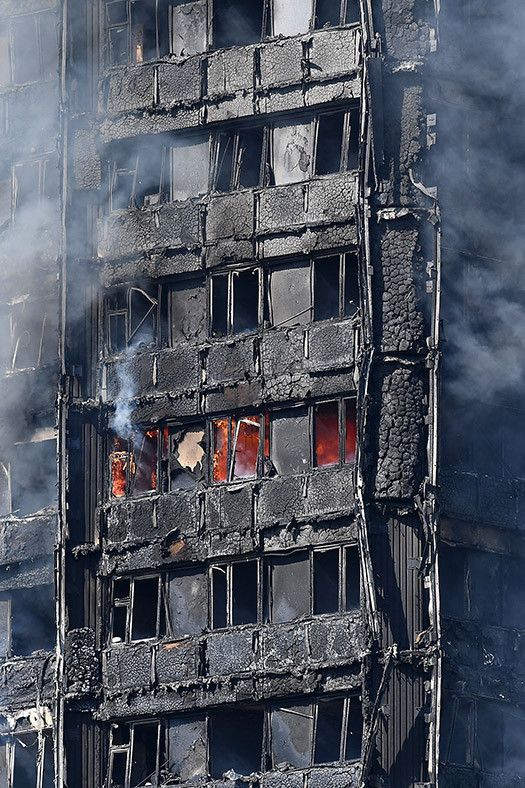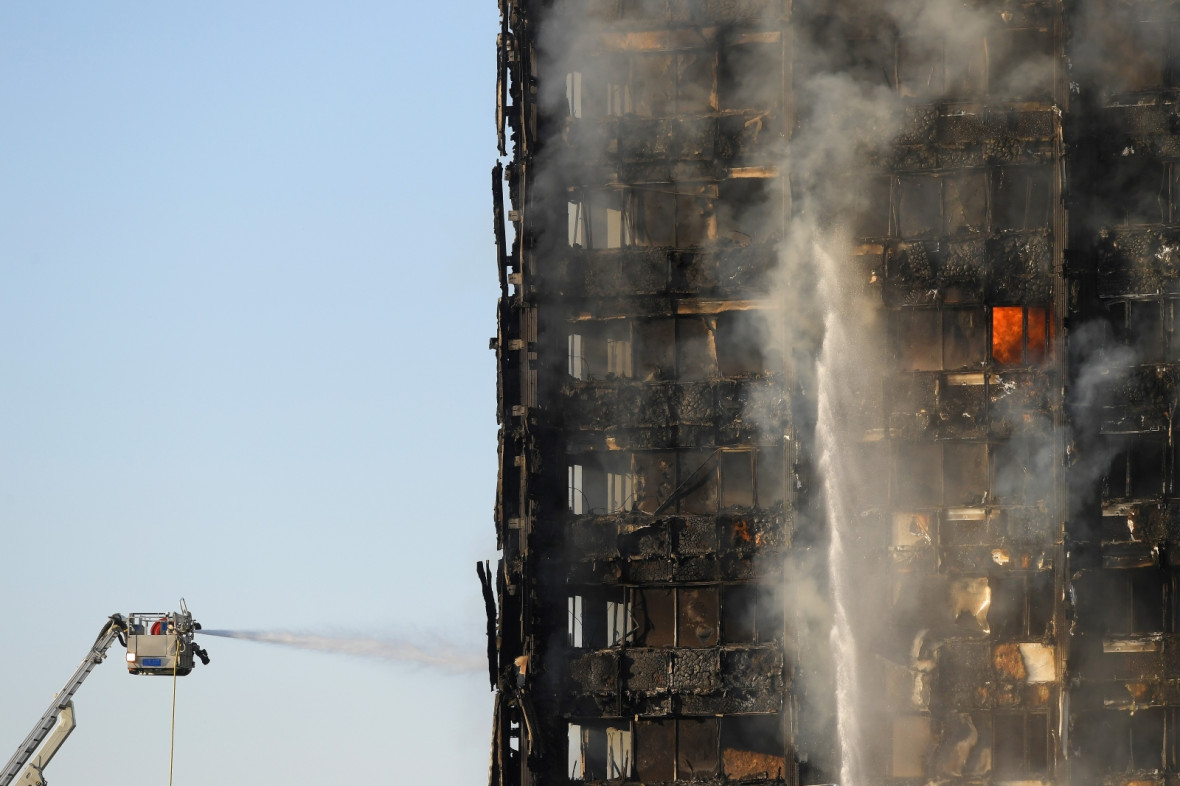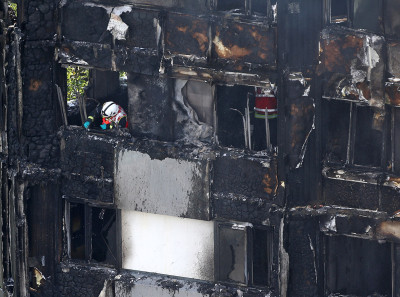 "I looked through the spy hole and I could see smoke everywhere and the neighbours are all there. There's a fireman shouting 'get down the stairs'," one of the block's residents, Michael Paramasivan, told the BBC. "It was an inferno. As we went past the fourth floor it was completely thick black smoke. As we've gone outside I'm looking up at the block and it was just going up. It was like pyrotechnics. It was just unbelievable how quick it was burning."
Jodie Martin, who lives close to the building and sought to save people from the fire, told the BBC: "There was bits of building falling off all around me, I scalded my shin on a hot piece of metal that had fallen off the building. I was just screaming at people: 'Get out, get out' and they were screaming back at me: 'We can't, the corridors are full of smoke'."
Nassima Boutrig, who lives opposite the building, said she was awakened by sirens and smoke so thick that it filled her home as well. "We saw the people screaming," she said. "A lot of people said 'Help, help, help.' The fire brigade could only help downstairs. It was fire up, up, up. They couldn't stop the fire." Boutrig said her friend's brother, wife and children lived in the building and that her friend was waiting to find out if they were OK.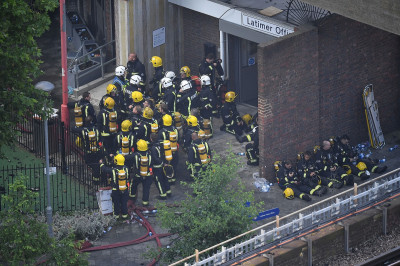 Massive flames licked up the sides of the block as 200 firefighters battled the blaze for hours along with 40 fire engines. The blaze started around 1am, and smoke was still pouring from the building more than six hours later. Plumes of black and grey smoke were billowing high into the air over London hours after the blaze started.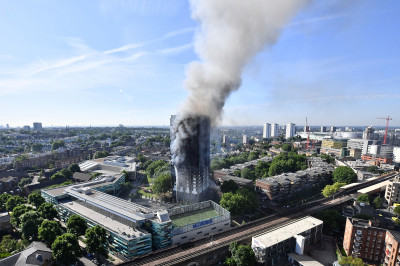 "Firefighters wearing breathing apparatus are working extremely hard in very difficult conditions to tackle this fire," Assistant Commissioner Dan Daly said. "This is a large and very serious incident and we have deployed numerous resources and specialist appliances."
Stuart Crichton, the Ambulance Service's assistant director of operations, says 100 medics are on the scene, together with ambulance crews and advanced trauma teams. London Mayor Sadiq Khan said a "major incident" had been declared. Police closed the A40, a major road leading out of west London, while some parts of the underground train network were closed as a precaution.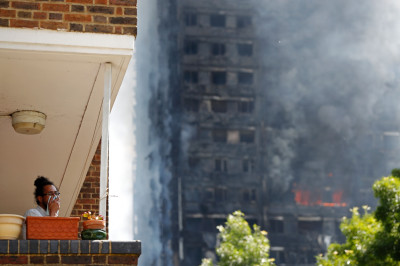 Grenfell Tower was built in 1974 and was recently upgraded at a cost of £8.6 million ($11m), with work finishing in May 2016. The Grenfell Action Group, a community organisation formed to oppose a nearby redevelopment project, has been warning about the risk of fire at Grenfell Tower since 2013. The group has raised concerns about testing and maintenance of firefighting equipment and blocked emergency access to the site.
Ash Sha, 30, who witnessed the fire and has an aunt in the building who managed to escape from the second floor, said the local council had renovated the tower. "One year ago the council renovated the building both externally and internally," Sha said. "They cladded the outside and insulated the inside. The insulated material is very similar to sponge so it crumbles in your hand. This was just done to tart it up and match the nearby building."
London Mayor Sadiq Khan said questions need to be answered about tower blocks around the city following a devastating fire. Khan had been called to respond after reports that people had been advised in advance to remain in their flats in the event of fire. Khan said in a statement "there will be a great many questions over the coming days as to the cause of this tragedy and I want to reassure Londoners that we will get all the answers."
London Fire Brigade says that a structural engineer and urban search and rescue crews have assessed the stability of the burning tower block in west London and believe it is not in danger of collapsing. The brigade says "it is safe for our crews to be in there."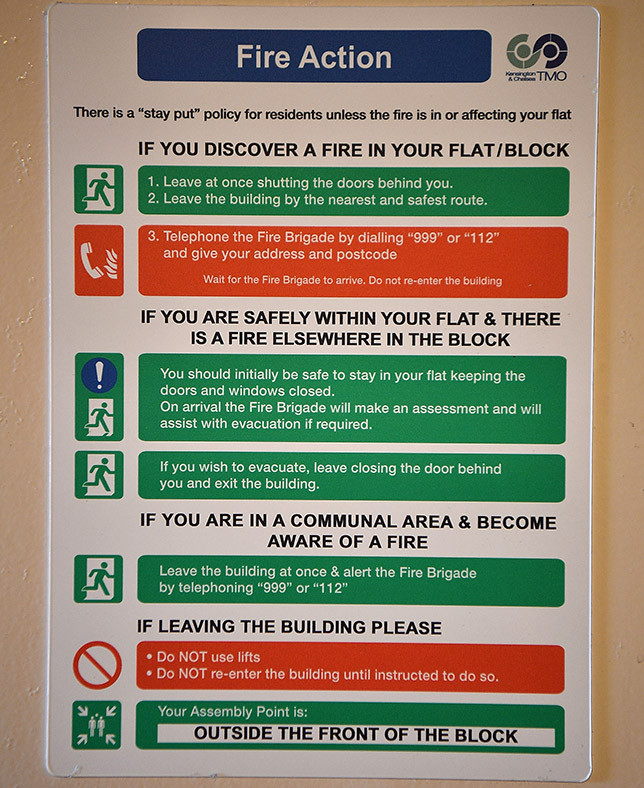 The local council of Kensington and Chelsea, which owns the block, said its focus was on supporting the rescue and relief operation. It said the causes of the fire would be fully investigated.
Police have turned a church near the scene of the high-rise fire into a makeshift centre for evacuees. Many people at St Clement's church are in wheelchairs and have been brought from adjacent buildings that were evacuated by firefighters because of fears the fire might spread. Reverend Alan Everett told the BBC there had been a huge community response.