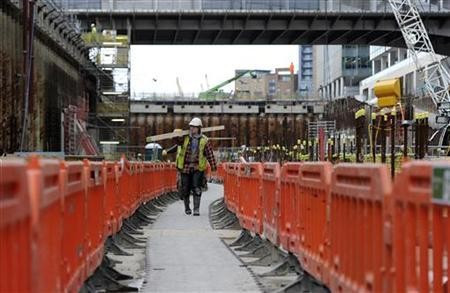 Work on major infrastructure projects deemed to be of national importance, but which require financial support from the government, could start as early as the end of this year, with applicants currently locked in "detailed discussions" with Treasury ministers over the first tranche of approvals, IBTimes UK has learned.
More than 70 infrastructure projects have so far applied for financial help under the Treasury's UK Guarantees Scheme, which will support the finances of projects ministers consider "nationally significant" and "financially viable", among other criteria.
"There's a real feeling from ministers that they want to make this a success. There's a lot of movement behind it, but it does depend on who comes forward," said a source close to the discussions, adding that "the idea is to get this moving as soon as possible".
Chancellor George Osborne announced the UK Guarantees Scheme as part of a drive to stimulate growth in the lacklustre British economy, as well as carry out key work to bring the country's infrastructure up to date.
The scheme, which was given parliamentary approval with the Infrastructure (Financial Assistance) Act which passed through Britain's legislature in just 55 days, will help projects struggling to find sufficient private finance to secure the funds they need through taxpayer guarantees.
It is potentially worth £40bn overall.
Treasury officials have already said that Crossrail, a new rail network across London meant to relieve the pressure on the capital's struggling transport system, will qualify for the scheme.
Rolling stock to be used on Crossrail, which is already under construction, will have access to the financial support.
There are four contenders for the contract to supply the rolling stock, who have been told they can factor in the scheme to their bids.
The government's National Infrastructure Plan 2011 highlighted forty priority areas for investment, including wind energy, rural mobile network coverage, and the Thames Tideway Scheme to improve London's sewage system.
As well as the UK Guarantees Scheme, the government is hoping to stimulate construction work on infrastructure projects by cutting planning red tape and make it harder for opponents to blockade developments through the courts with a judicial review.
A £9.4bn investment in upgrading the rail network was announced earlier in the year and there are plans in place to build a new generation of nuclear power stations across the country to protect the country's future energy supply.
Increasing infrastructure activity will help to heal the wounds of the construction sector, which has seen its output freefall since the end of 2011 amid austerity.
George Osborne's Autumn Statement Will Mark his Own Journey from Stalin to Mr Bean [OPINION]