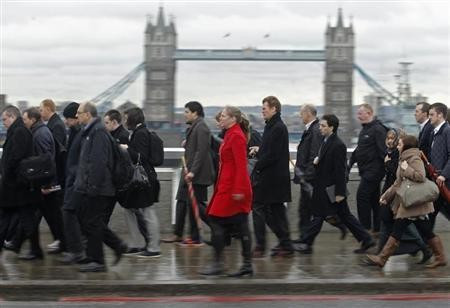 Britain's economy is likely to avoid an unprecedented triple-dip recession with several indicators pointing to marginal growth in the first quarter.
Two of the economy's three main sectors grew in January, while business and consumer sentiment is improving, house prices are rising, and a Bank of England credit easing scheme is expected to gather momentum.
"Of course uncertainty remains, particularly surrounding the eurozone," said Colin Edwards, economist at the Centre for Economics and Business Research.
"While markets have been somewhat pacified lately they are prone to shudder at the first sign of trouble, potentially reigniting turmoil in the eurozone in earnest - witness the jump in 10-year Spanish bond yields from 4.8 percent to 5 percent.
"This instability has inevitable implications for the growth prospects of the UK. But barring another dramatic turn of events, early signs suggest that the UK will more likely than not avoid contraction in Q1 and sidestep a triple-dip recession."
Private firms in the UK service sector saw their activity return to growth in January after falling into recession in December, according to a monthly index compiled from surveys of purchasing managers.
In a similar measure, manufacturing sector output continued to grow in January, though the pace of its expansion had slowed across the month.
Private construction firms reported no change in pace from their December contraction, with activity remaining at a six-month low.
Meanwhile businesses are confident in their outlook over the coming months.
The Business Confidence Monitor index compiled by the Institute of Chartered Accountants in England and Wales hit 12.8 in January, up sharply from the fourth quarter's 4.2.
A separate survey by Britain's biggest lobbyist, the Confederation of British Industry, found growing optimism among SMEs about their outlook for the following three months, with most anticipating output and domestic orders to rise.
Consumer confidence lifting
Gfk Nop, the market research group, also found that British consumer confidence is lifting. Most notably they found that Britons' had an increasing appetite for big purchases.
The National Institute for Economic and Social Research predicted that the UK will not fall into a third recession, although the economy will grow by only 0.7 percent across the whole of 2013.
"The concern should not be whether or not the economy shrank slightly at the start of 2013 to fulfil the technical definition of recession, or whether there is slight growth, but on the broader question of whether stagnation persists throughout 2013," said the NIESR.
RBS analysts expect 0.1 percent growth in the first quarter of 2013, thereby narrowly avoiding a recession.
A Credit Conditions Survey by the Bank of England pointed to a surge in bank lending in the first three months of the year, off the back of stimulus from the Funding for Lending Scheme (FLS).
Under FLS, banks are offered cheap loans as an incentive to increase their affordable lending to the real economy of smaller firms and individuals.
Nationwide's latest House Price Index shows an increase of 0.5 percent overall in January. While house prices are down 4.6 percent on a year ago, this lift suggests that FLS is starting to have an impact.
If the lending materialises, FLS should help prop up the economy and avoid another recession.
---
Follow @shanecroucher