Tropical Storm Isaac to Hit Florida Keys after Lashing Haiti and Cuba
Republicans postpone Tampa national convention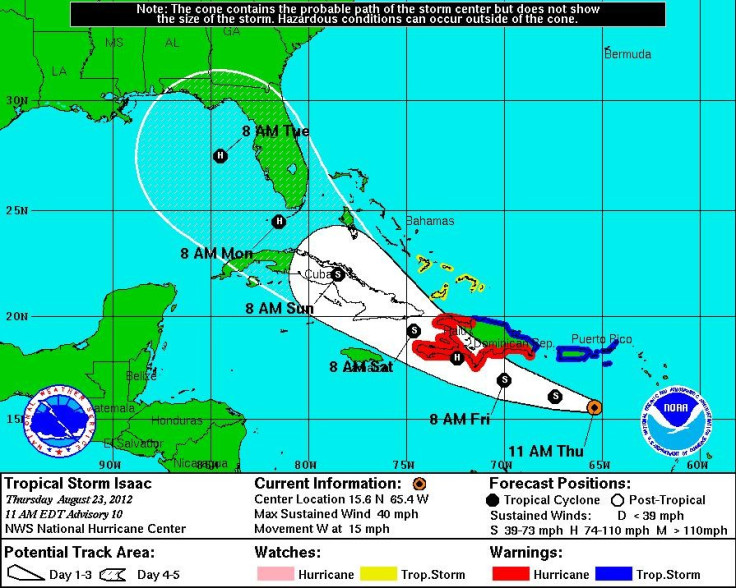 Tropical storm Isaac is expected to gain hurricane strength by the time it reaches Florida Keys, where authorities have issued warnings to tourists and residents to stay clear of the area.
The winds will be "enough to knock you over," Dennis Feltgen, a spokesman for the US National Hurricane Center in Miami, told the Associated Press. At 02:00 EDT (06:00 GMT), the storm was about 265 miles (430km) east-southeast of Keys West.
Isaac, with maximum sustained winds speed of 60mph (95kph), was moving to the northwest at 17mph (28kph). A storm is categorised as a hurricane when it reaches a minimum sustained wind speed of 74mph.
A state of emergency has been declared in Florida Keys by Governor Rick Scott.
The US Republican party has postponed its national convention in Tampa, on Florida's west coast, by one day. The convention is expected to nominate former Massachusetts governor Mitt Romney as the party's candidate in the forthcoming US presidential elections.
Earlier, Isaac swept through Haiti and eastern Cuba causing floods and landslides.
At least six people were killed in Haiti, which is yet to recover from the devastating earthquake in 2010.
Nearly 400,000 people still live in tents in one of South America's poorest countries.
"Since last night, we're in misery. All our children are sleeping in the mud, in the rain," said Jean-Gymar Joseph, a resident of Cite Soleil. Heavy rain continued in Haiti even after the storm had passed.
In Cuba, six provinces in the path of the storm were put on a state of alert, but the storm passed without causing any injuries or fatalities.
Baracoa, Cuba's easternmost city, experienced waves up to 13 feet (4 metres) high, according to a Reuters report.
"The force of the waves has destroyed the farmers' market for small businesses, also the children's area of a park and various homes. But I can tell you that the people are not afraid. They're accustomed to meteorological phenomena stronger than this," Baracoa resident Olider Aguilera told Reuters.
After passing through Florida Keys, Isaac is expected to move over the southeast Gulf of Mexico with a wind speed of 100mph (160kph).
© Copyright IBTimes 2023. All rights reserved.