A high-ranking official of the Islamic Revolution Guards Corps (IRGC) likened US president Donald Trump with Isis leader Abu Bakr al-Baghdadi, calling him the "American twin" of the latter.
The remarks by Brigadier General Rasoul Sanayee Rad, deputy commander for political affairs of the IRGC, came amid rumours that the Trump administration was considering designating the Iranian Armed Forces wing as a terrorist group.
Both Trump and Al-Baghdadi display "lack of trust in all principles and regulations of diplomacy and sovereignty in today's world," Rad wrote in an article quoted by the IRGC outlet Basirat, published on Wednesday (11 October). The Iranian general also accused Trump of helping Isis prosper in the Middle East.
"What is interesting is that Trump, who, during his election campaign days, accused his rival of having established Isis and colluding with it, is today, when the terrorist group's days are numbered in Iraq and Syria, helping Isis by threatening Iran on the one hand, and disrupting anti-Isis military operations by Iraqi and Syrian armies on the other," the article read.
Drawing parallels between Trump and al-Baghdadi, Rad said that both are hostile towards Iran and the IRGC. While Trump calls "Iranians terrorists", the Isis leader sees "Iranians as infidels and disbelievers", he noted and warned: "Such illogical decrees could trigger disasters and wars."
Rad further said that both Trump and al-Baghdadi were using bullying tactics to achieve their objectives. "One of them follows this bullying in the outfit of a caliph and the other in president's clothing using modernism; but both have one thing in common: Modern Jahiliyyah," he noted.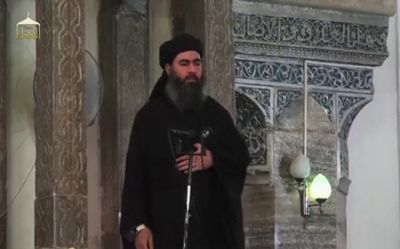 Trump drew Iran's ire when he revealed plans to scrap the 2015 nuclear deal signed between Iran and several western nations, including the US. Trump has reportedly been repeating the threat despite White House officials stating that the Middle East nation has been compliant of the deal. The president is reportedly expected to make an announcement on the Iran nuclear deal on Friday (13 October).
The agreement required Iran to limit its nuclear arsenal, in order to have economic sanctions against it lifted and millions of dollars in oil revenue and frozen assets released.
In the recent past, Iran test-fired some rockets, which it claimed were in accordance with the nuclear deal, but Trump accused the country's leadership of flouting the deal agreements.