Trump to nominate Hardees's burger CEO Andy Puzder as Labor Secretary
Burger chain CEO who floated idea of automating fast-food jobs opposes large minimum-wage hikes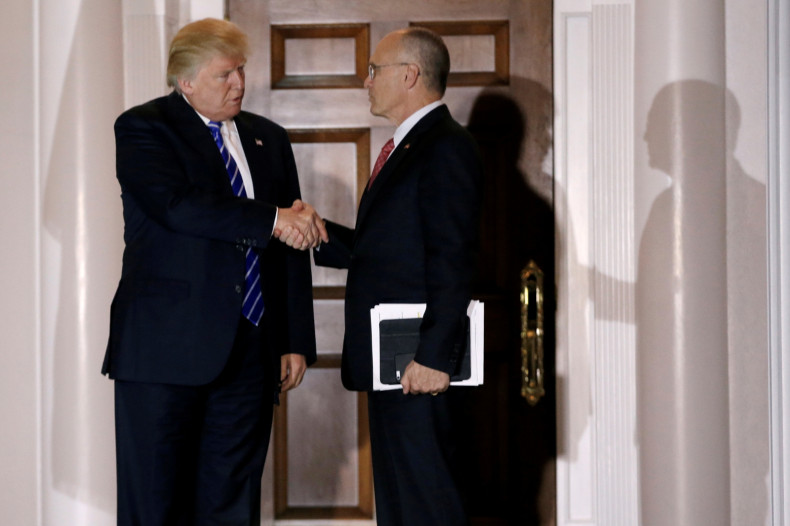 President-elect Donald Trump's transition team told reporters that the CEO of the burger chains Hardee's and Carl's Jr. will be picked to join Trump's administration as Secretary of Labor.
The pending announcement of Trump's nomination of Andrew Puzder, the CEO of CKE Restaurants Holdings Inc., to his cabinet was confirmed by transition team officials to The Wall Street Journal and Bloomberg.
In a Trump transition team conference call Wednesday (7 December) GOP Communications Director Sean Spicer said Puzder "has a good handle on what the president elect is trying to do for our economy" and "is a very talented man" with "a very strong background, and someone we think highly of."
After he was named CEO of CKE Restaurants, Inc. in September 2000 Puzder pulled the business out of "serious financial and operational issues" and, according to the company website, "is credited with turning around both the Hardee's brand and CKE, allowing the company to survive become financially secure and return to growth."
Puzder will go through confirmation hearings in the Senate in January 2017. If confirmed, he will head up the enforcement of labor law and advise the president on legal aspects of unions and workers rights. And he will be in charge of work-benefits programs and employment opportunity programs.
Following an interview he gave to Business Insider early this year, Puzder was criticised for comments he made about replacing low-wage fast-food service jobs with robots. "They're always polite, they always upsell, they never take a vacation, they never show up late, there's never a slip-and-fall, or an age, sex, or race discrimination case," Puzder said.
He later clarified his position in his column in The Wall Street Journal. "Customer service is still very important and, for now, having access to a person is important to assure smooth experiences for everyone," he wrote. Puzder pointed out there "are maintenance costs" involved with machines and that "the technology can malfunction, spoiling a patron's visit."
He has also taken criticism for his opposition to a large hike in America's minimum wage, arguing it will cost many low-wage workers their jobs. In the spring he told the Los Angeles Times that he doesn't support California's recent commitment to raise the state's minimum wage to $15 over the next five years.
"Are people going to want to hire entry-level employees for these very high minimums, which come with Obamacare, which come with mandatory sick leave, or other benefits which the government imposes on business for these individuals?" Puzder asked.