Trump postpones signing cybersecurity executive order to reportedly focus on immigration lawsuit
Trump attended a meeting with cyber experts and the heads of intelligence agencies.
President Donald Trump has postponed signing an executive order on cybersecurity, even as White House officials reportedly stepped up efforts to focus on facing legal challenges against Trump's recent directives on immigration. The White House failed to officially provide any reason for the postponement of signing the order.
According to an aide, who requested anonymity, Trump's already busy schedule on Tuesday (31 January), which included announcing his Supreme Court pick, was swamped by further complications brought by a lawsuit filed by San Francisco, challenging Trump's order to deny funds to so-called sanctuary cities, Bloomberg reported.
San Francisco became the first US city to sue over the threatened federal funding cut. The city argued that Trump's executive order is a "severe invasion of San Francisco's sovereignty".
The cybersecurity order is slated to provide the White House budget office a key role in assessing cyberthreats and will require agency heads to modernise outdated IT systems, according to a White House official, Reuters reported.
Trump said his directive would "hold my cabinet secretaries and agency heads accountable, totally accountable, for the cybersecurity of their organisations".
"We must defend and protect federal networks," he said.
According to Politco reporter Eric Geller, who took to Twitter to post tweets on Trump's cybersecurity order signing delay, the president attended a meeting with cyber experts and the heads of intelligence agencies such as Admiral Michael Rogers, Director of the NSA. Former New York mayor and Trump's cybersecurity adviser Rudy Giuliani as well as former NSA director General Keith B Alexander also attended the session.
Trump reportedly said that Guiliani would be working with Homeland Security adviser Tom Bossert and the president's senior aide and son-in-law Jared Kushner on cybersecurity.
Eric O'Neill, former FBI counter-terrorism operative, who currently serves as national security strategist at security firm Carbon Black, told IBTimes UK: "President Trump's executive order on cybersecurity will hopefully address a significant number of deficiencies in one of the most important aspects of the United States — critical infrastructure. US government systems have proven to be deficient at guarding information. The US government needs a quarterback to ride herd on agencies with poor track records in protecting information.
"Effective cybersecurity requires the best technology solutions, combined with IT professionals proficient in their use, and comprehensive training of employees to defend against social engineering attacks. Let's hope Trump's cybersecurity advisers understand that cybersecurity doesn't come out of a box. The best cybersecurity is a multi-phase process that requires a new set of beliefs."
It remains unclear as to when Trump will sign the cybersecurity executive order.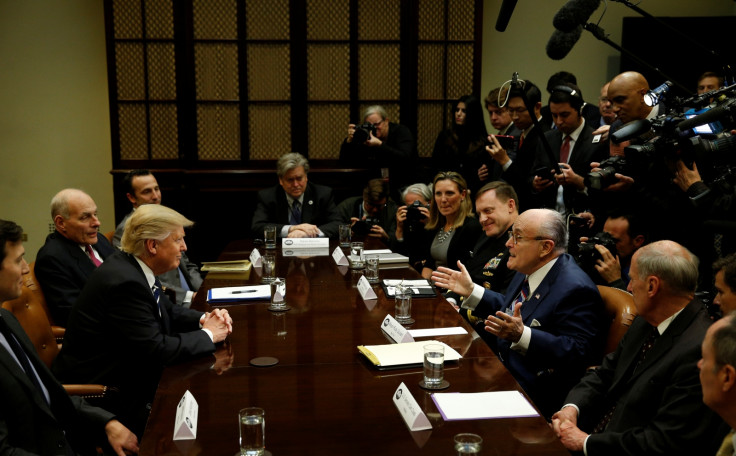 © Copyright IBTimes 2023. All rights reserved.