Donald Trump has again turned to Snapchat to take a swipe at Hillary Clinton, launching a filter for the messaging app that calls her 'crooked' ahead of the televised debate day against his Democratic rival.
Available nationwide across the US for Snapchat users, the filter shows fireworks with the banner 'Donald J. Trump vs Crooked Hillary' emblazoned along the top. Trump, as well as Clinton, have used filters along their campaigns to take aim at each other and drum up support, but this is the first time a nationwide filter has been purchased for a political campaign.
The 'Crooked Hillary' line refers to Trump's frequent labelling of Clinton being crooked for not saying it straight in interviews, his belief that she's covering up the truth and an attack on her security defences. Trump has used the line during a number of speeches at Republican rallies and on Twitter.
The filter is set to run until the debate begins on 26 September 9pm (Eastern Time), where it will replaced by another filter that will see the attack on Clinton removed.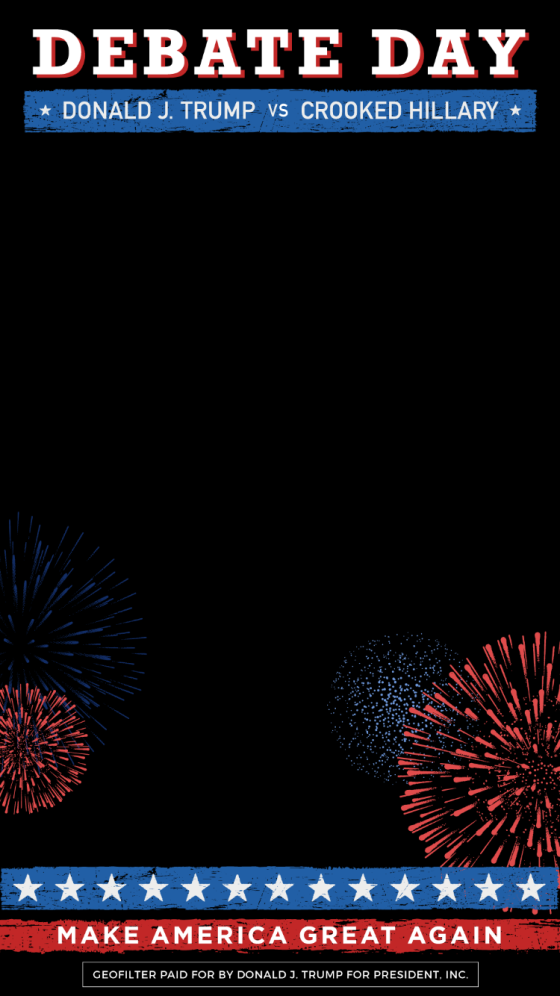 The use of social media platforms like Snapchat, which is predominantly used by a younger audience, has seen a significant rise during this Presidential election and is a clear tactic by both Trump and Clinton's campaigns to try to appeal to a generation of snap-happy voters.