Child labour laws need loosening says group funded by Trump's education secretary
Betsy DeVos' family backs think tank advocating 'dismantling excessive legal restrictions' to let children work.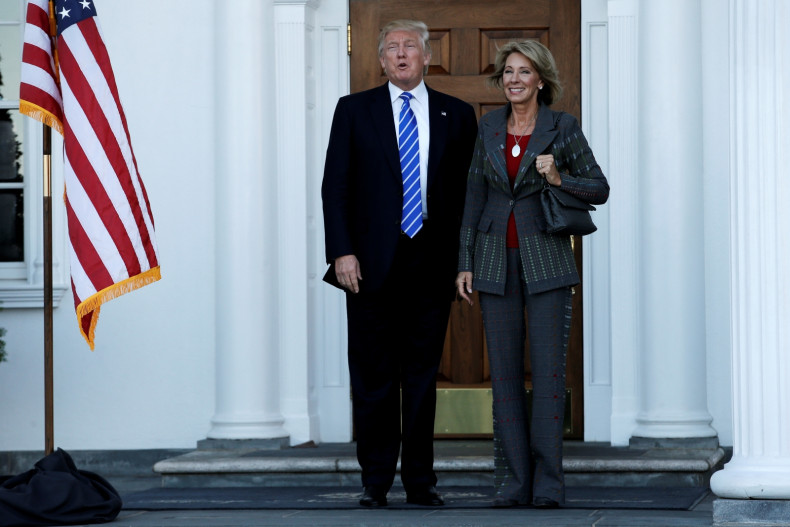 President-elect Donald Trump's new education secretary funds, and sat on the board of, a think tank that advocates abolishing mandatory schooling and wants to see child labour laws loosened.
In an early November blog post titled "Bring back child labor" the Acton Institute's project coordinator Joseph Sunde muses about "dismantling the range of excessive legal restrictions, minimum wage fixings, and regulations that lead our children to work less and work later."
Sunde quotes directly from another post by anarcho-capitalist Jeffrey Tucker at the free market Foundation for Economic Education. "If kids were allowed to work and compulsory school attendance was abolished, the jobs of choice would be at Chick-Fil-A and WalMart," Tucker writes. "They would be fantastic jobs too, instilling in young people a work ethic."
From 1995 to 2005 Trump's newly appointed education secretary Betsy DeVos was a board member at the institute. According to tax filings from the Dick and Betsy DeVos Foundation, a charity that she shares with her husband, since 2000 DeVos has given at least $1.28 million to the Acton Institute.
DeVos' mother Elsa D Prince Broekhuizen is currently a director there, and DeVos' brother Erik Prince, the founder of Blackwater USA – whose mercenaries became infamous for the Nisour Square massacre during the second Iraq War – gives talks at the institute.
The Grand Rapids, Michigan, group is a libertarian free market think tank that works "to promote a free and virtuous society characterized by individual liberty and sustained by religious principles." It speaks to a variety of issues, including education.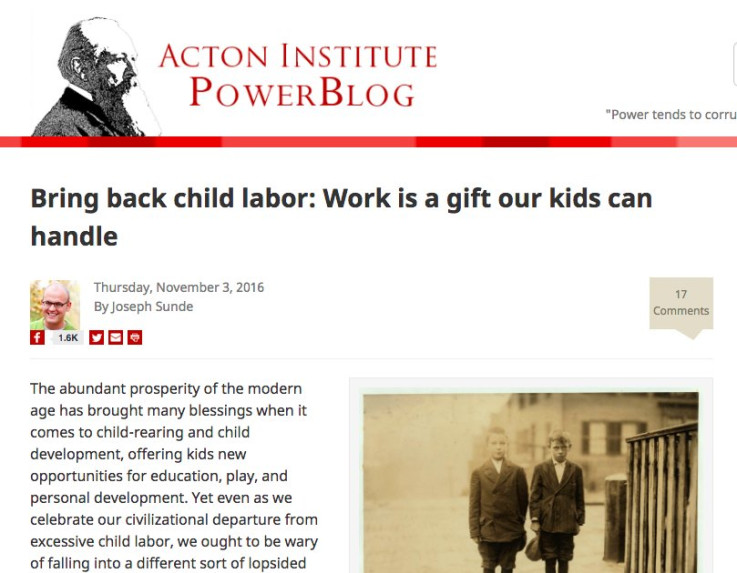 Screenshot/Acton Institute
Betsy DeVos is an advocate of charter schools. Since 2010 she and her husband Dick DeVos, heir to fortune of marketing company Amway, have pushed state bills in Pennsylvania, Indiana, and Florida that would create school voucher schemes where students who want to be schooled at a private and religious institution are given public funding to pay for it. The Acton Institute backs the idea.
In 2000 the DeVos family spent millions of dollars backing a failed voucher scheme. In 2002 Dick DeVos spoke at the right-wing Heritage Foundation where he said conservatives needed "need to encourage the development" of organisations to promote voucher programs "on a state-by-state basis to be able to offer a political consequence for opposition and a political reward for support of education reform."
President-elect Donald Trump offered the education secretary job to Betsy DeVos on Tuesday (22 November) and called her "a brilliant and passionate education advocate."
Under her leadership, he said, "we will reform the US education system and break the bureaucracy that is holding our children back so that we can deliver world-class education and school choice to all families."
DeVos, a former Michigan Republican Party chair, confirmed her appointment on Wednesday, stating: "The status quo in education is not acceptable.
"Together," she said, "we can work to make transformational change that ensures every student in America has the opportunity to fulfil his or her highest potential."
In the recent Acton Institute blog post about loosening child labour laws Sunde said that to get there it would "require diligent and drastic changes across our cultural spheres and institutions" including "the powerful bureaucracies that seek control our kids through top-down plans and programs."