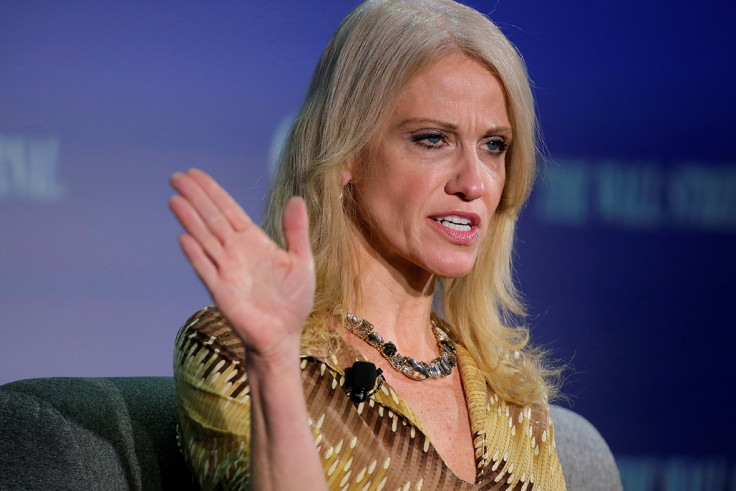 Donald Trump's campaign manager and senior adviser, Kellyanne Conway, hit out at a 17-year-old girl who bought up the sexual assault allegations made against the president-elect during a question-and-answer session.
Conway was asked about working for a man who has been accused of sexual assault during an event for high school students sponsored by the University of Virginia.
"Women are tired of the same argument and the same thing you are presenting to me right now," Conway said in response to a question from a 17-year old girl about how she could "rationalise" working for Trump.
The question was asked by Maaike Laanstra-Corn, who said she was the daughter of US news organisation Mother Jones' Washington Bureau chief David Corn, The Hill reported.
But Conway did not take to the line of questioning well, reportedly telling the teenager, "For you to use sexual assault to try to make news here is unfortunate."
She added: "I'm glad that people looked at [those attacks] and said, 'You know what? That's an argument that will not create a single job in my community, not bring back a single of the 70,000 factories that have been closed, will not deter one member of ISIS from doing their bloodletting here or anywhere else in the world."
Conway also hit back at the question by suggesting Democrat candidate Hillary Clinton, who would have been the US' first female president had she won the election, had failed to successfully appeal to female voters, despite the accusations against Trump.
Trump's popularity across the board did plummet in the polls after footage of him making lewd comments about women was released, and several women came forward to accuse the Republican of sexual assault.
But his numbers bounced back up several weeks later, particularly in the wake of the relaunch of the FBI's investigation into Clinton's email usage – something that Clinton herself largely blames for her defeat.