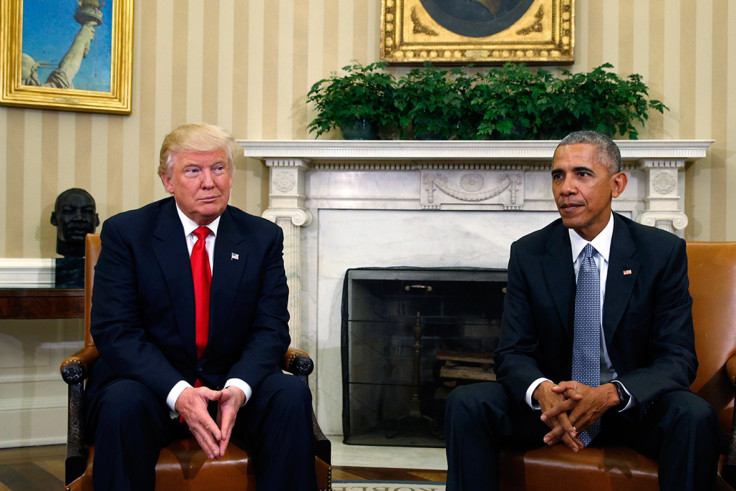 President-elect Donald Trump's deal to keep 1,000 jobs in Indiana has been sneered at by the White House, which suggested he had a long way to go to reach Barack Obama's standards.
Trump's team successfully encouraged Carrier, the air conditioning company, to keep jobs in Indiana as opposed to outsourcing them to Mexico – something his team has since cited as an example of maintaining his campaign promises.
In February this year, the air-conditioning company announced it would move production from Indianapolis, Indiana, to Monterey, Mexico, but it has since been persuaded to keep 1,000 jobs in Indiana.
However, a spokesperson for Obama was quick to point out retaining 1,000 manufacturing jobs was just a fraction of the work that needed to be done.
"If [Trump] is successful in doing that 804 more times, then he will meet the record number of manufacturing jobs" Obama created during his tenure, spokesperson Josh Earnest told The Hill.
One of Trump's campaign pledges was the creation of jobs, in particular preventing work from being outsourced to countries outside the US – a promise that played particularly well in the midwest of the country, where many blue collar workers had suffered economic setbacks.
The president-elect also suggested Democrats under Obama had neglected those workers, and suggested he would bring jobs back to those areas where the economy had stagnated.
But Earnest added Obama had gone even further than Trump's team had managed to do thus far, with the creation of around 800,000 jobs and the protection of more than 1 million roles.
The one difference would be the president-elect is talking about protecting jobs," Earnest added. "The metric I'm using is actually creating jobs."