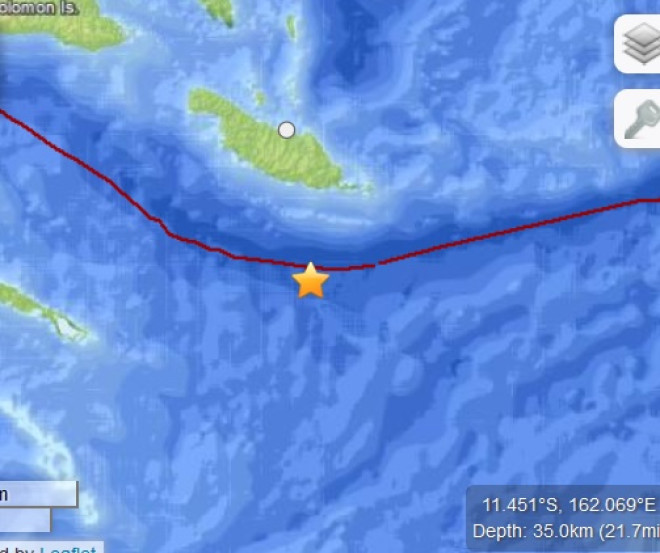 Just 24 hours after a 7.8 earthquake hit the Solomon Islands, the area has again been shaken by a quake of a similar magnitude. The first quake occurred at a depth of 18 miles, the second at a depth of 22 miles.
The Pacific Tsunami Warning Centre (PTWC), which had just cancelled an earlier warning, had to issue a fresh one that tsunamis may affect the Solomon Islands, Vanuatu and Papua New Guinea. The latest quake was 12 miles beneath the seabed. No injuries or tsunamis have yet been reported, but the PTWC was adamant it was best to remain vigilant: "An earthquake of this size has the potential to generate a destructive tsunami that can strike coastlines in the region near the epicenter within minutes to hours."
Following the earlier tremor, people in Honiara, Makira's capital, and nearby islands had reported seeing large waves. The charity World Vision's director for the Solomon Islands, Andrew Catford, said staff had been evacuated to higher ground as a precaution and strong currents and waves had pounded reefs.
"We felt this one strongly in Honiara. It was close to 30 seconds long."
Constable Taylor Fugo of the Solomon Islands police said: "So far we have received no reports of damage. The people responded very well to the warning. They all went up the hills and have been watching and waiting for advice."
The Solomon Islands are still recovering from flash floods on 3 April which left 23 dead and 9,000 homeless. That was also followed by a 6.0 earthquake. George Herming, a spokesman for the Solomon Islands government, admitted: "It has been a really tough time."
The US Geological Survey (USGS) says the area, the Ring of Fire, "is one of the most seismically active areas of the world due to high rates of convergence between the Australia and Pacific plates".
At the same time as the 3 April earthquake major quakes also affected Chile in South America, which is also part of the Ring of Fire. Japan's 2011 earthquake and the 2004 tsunami, which killed 230,000 people, both occurred as a result of their proximity to the ring of fire.