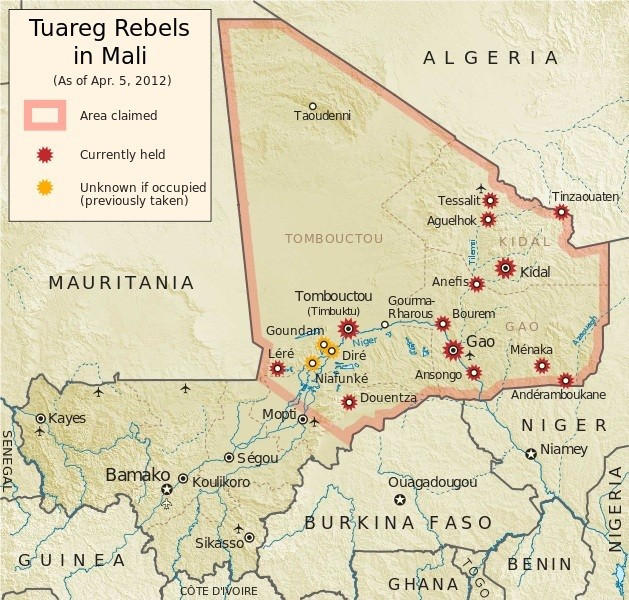 Tuareg rebels have clashed with Islamist fighters in northern Mali over the creation of an independent state, witnesses said.
The row between the tribal National Movement for the Liberation of Azawad (MNLA) and the Ansar Dine Islamists erupted over whether Sharia, or Islamic law, should be imposed in the region.
The two groups merged together despite having different ideologies and objectives and seized main cities in northern Mali after a March 22 coup d'état in the southern capital Bamako.
The MNLA published a statement saying the merger deal was being studied by each faction.
"A commission will be established to deal with the differences on the pending issues," read the statement signed by MNLA secretary general Bilal Ag Acherif.
A member of the Ansar Dine admitted the two delegations "are continuing talks in Gao to discuss elements such as sharia".
Mossa Ag Attaher, a MNLA spokesman said they had "accepted the idea of an Islamic State but it should have been written that we will practise a moderate and tolerant Islam, with no mention of sharia".
Tuaregs are fighting for an autonomous state of Azawad, the name for their homeland in northern Mali.
But on Friday officials told AFP that clashes near Kidal, a remote regional capital in the northeast, erupted.
"There was a lot of gunfire," he said. "I saw a lot of cars cross the city."
Several MNLA flags had been removed from around the city, according to officials.
A city resident confirmed the incidents.
"Ansar Dine wefre to the north of Kidal, a group of MNLA to the south," he said.
Many experts believe the Tuareg's rebellion in northern Mali has been hijacked by Islamists, creating a safe haven for Al-Qaida-backed militants.
"We are in an early stage of Afghanistan and Somalia. There is no doubt in my mind," Ahmedou Ould-Abdallah, a Mauritanian diplomat who has been a United Nations envoy in both west Africa and Somalia, told Reuters.
Western diplomats working in the region are particularly concerned that the threat could outpour into other African areas.
The feared Al-Qaida in the Islamic Maghreb (AQIM), which has its roots in Algeria and is an offshoot of the terrorist group founded by Osama Bin Laden, could find a territorial base there.
"It has become a cool place for jihadis from the region," said one U.S. official
During MNLA and Ansar Dine's control of northern Mali, a more conservative style of Islam has been imposed, with measures such as the separation of girls and boys in schools, whipping of those who were found drinking alcohols and smoking and the controversial ban on soccer and television.
The leader Ag Ghali is believed to using religion for political aim, in order to gain support from AQIM.
Islamists are better armed than the Tuareg separatists as they reportedly dispersed a demonstration by around 50 women and children in Kidal demanding a more liberal approach to Islam.
"Around 50 women and children marched today from the stadium to the main Kidal market against the Islamists," said Abubacar Seydou Diarra, a local teacher.
"Some of them chanted in the local language ... 'We don't want strangers here,' 'We don't want Islamists here.' Men in three pick-ups that had the Ansar Dine flag intervened and beat the demonstrators," he said.