Millions of London Underground passengers' journeys have been thrown into disarray as the effects of tube strikes were felt.
With their shaking heads, puffed out checks and in some cases industrial language, commuters battled to make it to their desks on time during the first morning of industrial action across the underground network.
The National Union of Rail, Maritime and Transport Workers (RMT) and Transport Salaried Staffs' Association (TSSA) are holding the 48-hour strike over 950 proposed job losses and closure of all ticket offices.
Stuttering Northern and Jubilee lines meant passengers were held up at stations from about 7am.
Passengers had mixed feelings towards the strike and its two key protagonists, London Mayor Boris Johnson and RMT union leader Bob Crow.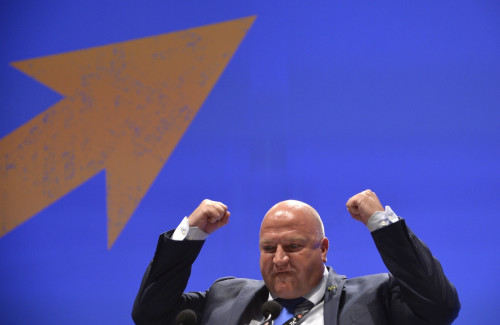 Mark Hynds, 34, was making his way to Stratford from London Bridge, a route he thought would be trouble free.
But he was greeted at the Jubilee Line station by shut gates and snaking queues as the weight of passengers meant guards stopped commuters from bustling through.
He said: "Bob Crow must be the most hated man in London today, but I doubt he cares.
"It's been a nightmare. I'm definitely going to be late for work. Is there anything I could have done to prevent that? Maybe. But I thought the Jubilee line was supposed to be open."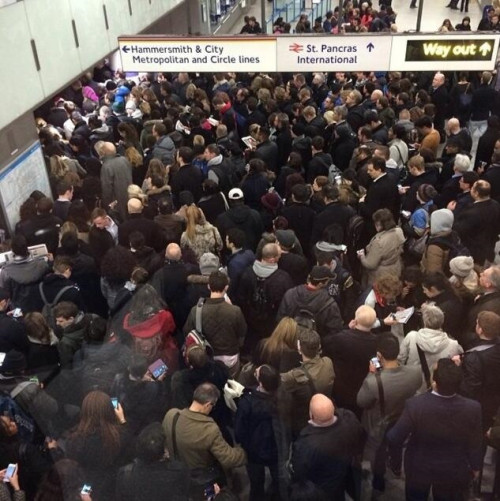 Chris Smith, 40, was also held up at London Bridge. He said: "If I worked in the public sector, if I was a teacher for example, and hundreds of job losses had been announced, I'd probably be frustrated too.
"It is an enormous pain but perhaps we should sympathise with the workers before we condemn the strike."
Rows of passengers remained at overground and Docklands Light Railway stations as carriages quickly became full with diverted workers.
Crowds of workers climbed aboard Thames Clipper services while buses throughout the capital have been packed full of passengers.
@barkingreporter "Crowds gather outside #Stratford station which is closed at the moment. #Tube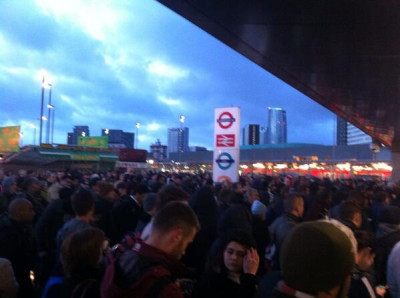 But some passengers have been taking a humorous look at the strike and the pandemonium it has caused.
@ThePoke "The people of Shoreditch will not be beaten by a Tube strike #tubestrike"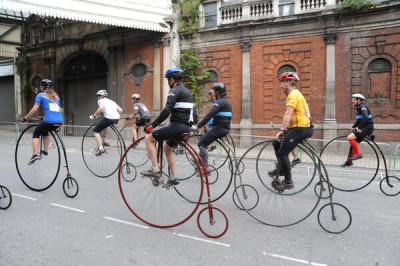 Boris Johnson has not escaped the ire of some passengers for not being able to reach a compromise with the unions.
Claire Marks, 41, was held up at a bus stop near Tower Hill. She said: "Aren't politicians supposed to prevent this type of thing happening? Everyday people have to comprimise, why can't the mayor?"
Johnson explained on BBC Radio 4 that a "tiny" minority of the RMT (30%) voted for the strike. He called for changes to strike laws for "vital" public transport infrastructure to make sure a strike is only allowed if a majority votes for it.
He added the tube network needed new technology, automatic payment options, new signalling, automatic trains, and 24 hour services.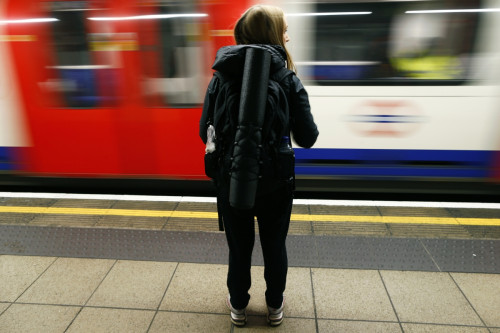 Disrupted services
Bakerloo line Limited stopping service in central areas from Queen's Park to Elephant & Castle
Central line No service in central area. Some trains in west and eastern ends, between West Ruislip and White City and Epping and Leytonstone
Circle line/District line Some services between Upminster and Wimbledon, very limited between Ealing Broadway and High Street Kensington, limited stops
Hammersmith & City line Some trains between Hammersmith and Moorgate, limited stops
Jubilee line Services between Stanmore and Finchley Road, and between Waterloo and Stratford only
Metropolitan line Some trains between Harrow-on-the-Hill and Aldgate
Northern line Trains over the whole line (except Mill Hill East), limited stops
Piccadilly line No service in central area. Some trains between Acton Town and Heathrow and between Arnos Grove and Cockfosters
Victoria line Trains between Seven Sisters and Victoria only
Waterloo & City line No service
A normal service will operate on the DLR, buses, National Rail and the London Overground.