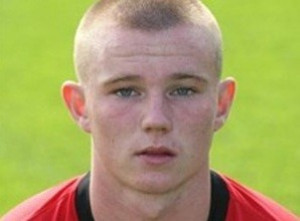 A smashed up Range Rover crashed by Man Utd starlet Ryan Tunnicliffe could reap a windfall in an auction, hopes the seller.
The mangled wreck of the luxury black vehicle is set to be put on Ebay by a buyer who saved it from the scrapyard, in a punt they hope could net up to £10,000 on the auction site.
Tunnicliffe wrote off the stylish wagon, worth around £60,000, in a huge shunt in October, which racked up a £30,000 write off bill.
The powerful Range Rover smashed in to a van and then ploughed into a house with the Old Trafford player behind the wheel. Nineteen-year-old midfielder Tunnicliffe was convicted in court of driving with excess alcohol, after admitting to drinking "a lot" the evening before the crash.
The Manchester Evening News reported the anonymous seller saying: "I am a specialist in Land Rovers and I got a call asking me if I was interested in a damaged 59-plate.
"I recognised whose it was and when I looked at it the damage was not as bad as it looked.
"It does need a lot of work doing to it, but someone could buy it, repair it and make some money on it. If Ryan goes on to become really famous like a Wayne Rooney or David Beckham it could be worth a fortune.
"A few years back one of David Beckham's old cars that was worth nothing went for a lot because it was his."
The Range Rover shall go up for auction on Ebay at 6pm this evening, stated the Manchester Evening News.