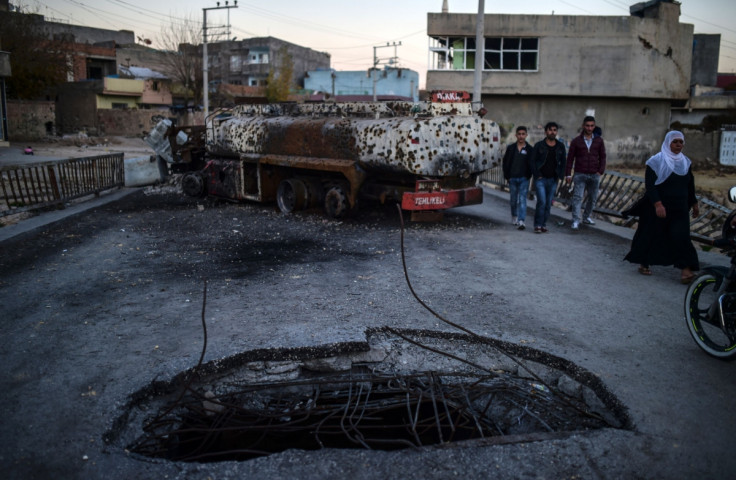 A car bombing in Turkey's restive south-east has killed two policemen and injured at least 14 others, in the last episode of violence to hit the region in recent months. The blast targeted a traffic police station and adjacent barracks in the majority-Kurdish city of Nusaybin on the Syrian border.
The compound subsequently came under fire from militants armed with rocket launchers and assault rifles, local media reported. Numerous civilians were among the casualties, including at least four in a critical condition.
Images from the scene showed a large crater caused by the bombing on the road facing the building that also suffered extensive damage. No group claimed responsibility for the attack, which however bears the hallmarks of the outlawed Kurdistan Workers' Party (PKK).
The militant group that has been leading a decades-long insurgency in Kurdish majority areas of south-east Turkey resumed its attacks last summer after a shaky truce with the government collapsed. Ankara has responded with a heavy-handed crackdown, imposing curfews and carrying out deadly military operations condemned by human rights groups.
Earlier this week, residents in nearby Cizre returned to their homes to find most had been destroyed by shelling after authorities partially lifted a 24-hour curfew imposed to facilitate security operations against the PKK in the city. The Nusaybin bombing came a day after two female militants were shot dead after attacking a police station in Istanbul in a separate incident that underscored the volatile situation in Turkey.
The two women were said to be members of the Revolutionary People's Liberation Party-Front (DHKP-C), a banned leftist organisation that has carried out militant actions against authorities in the past, notably including the hostage-taking of a state prosecutor in Istanbul that ended in tragedy when two gunmen and the captive judge were killed during a police operation last year.