Getty Images photographer Cagdas Erdogan spent some time with members of the PPK's youth wing in Nusaybin, south-eastern Turkey. The Patriotic Revolutionary Youth Movement, known as YDG-H, was founded in 2013 by youth PKK sympathisers. His photographs show armed militants getting ready to carry out an attack on security forces in Nusaybin.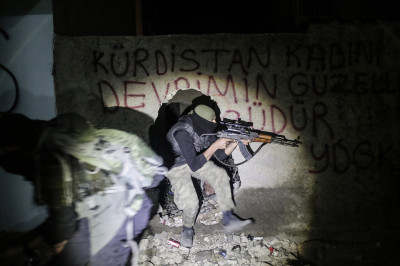 In the most recent incident in the town, a car bomb and rocket attack on a traffic police station in Nusaybin killed two police officers and wounded around 35 people. No group has yet claimed responsibility for the attack, but it bears the hallmarks of the outlawed Kurdistan Workers' Party (PKK).
Earlier this week, residents in nearby Cizre returned to their homes to find most had been destroyed by shelling after authorities partially lifted a 24-hour curfew imposed to facilitate security operations against the PKK in the city. The Nusaybin bombing came a day after two female militants were shot dead after attacking a police station in Istanbul in a separate incident that underscored the volatile situation in Turkey.
The PKK, considered a terror organisation by Turkey and its allies, is fighting for autonomy in Turkey's mostly Kurdish south-east. The organisation resumed its attacks last summer after a shaky truce with the government collapsed. Ankara has responded with a heavy-handed crackdown, imposing curfews and carrying out deadly military operations condemned by human rights groups.