Istanbul's Grand Bazaar is one of the largest and oldest covered markets in the world. There are more than 3,000 shops packed along its 61 covered streets. It is estimated that between 250,000 and 400,000 people visit the bazaar each day, making it the world's most visited tourist attraction.
Getty images photographer Chris McGrath captures the colours of the bazaar in pictures so detailed you can almost hear the haggling and hubbub of the crowds and smell the incense and spices wafting across the market.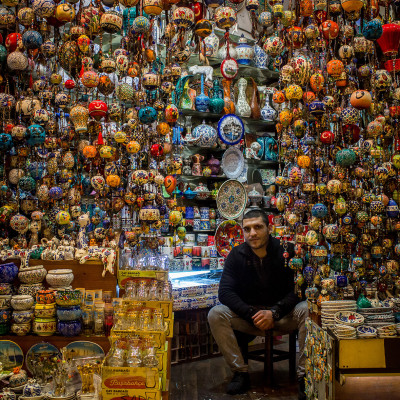 The Grand Bazaar is located inside the walled city of Istanbul. Each street of the market specialises in certain types of goods: jewellery on one, carpets on another, and leather goods on the next. Construction of the Grand Bazaar started in 1455, shortly after the Ottoman conquest of Constantinople. It was enlarged over the centuries and has had to be rebuilt several times, after earthquakes and fires damaged parts of it.