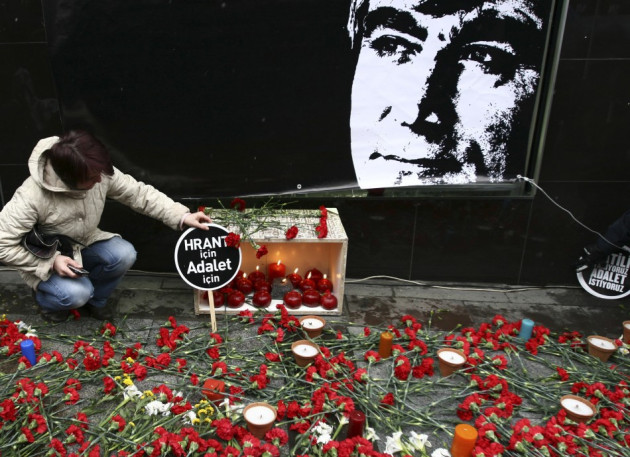 A court in Turkey has sentenced a man to life in prison for instigating the 2007 death of Hrant Dink, a prominent Armenian-Turkish editor, but acquitted 19 other suspects tried alongside him on related terrorism charges.
The verdict was met with outrage by 500 relatives and supporters of Dink, founder and editor-in-chief of the bilingual Armenian-Turkish newspaper Agos.
According to the court, his murder was not the work of a terrorist organisation and no part of the state apparatus was involved.
Despised by Turkish nationalists for depicting the mass killing of Armenians a century ago as genocide, Dink was shot in daylight on 19 January, 2007 outside his office in Istanbul.
Yasin Hayal, the mastermind behind the murder, was sentenced to life for soliciting the killing but the court cleared all the other suspects, including Erhan Tuncel. Tuncel was, however, sentenced to 10 years and six months' imprisonment for a separate crime.
Dink's killer, Ogun Samast, was just 17 at the time of the murder and was jailed in 2011 for 22 years.
Dink's supporters said they have uncovered evidence that suggests involvement by state officials in his murder. The European Court of Human Rights agreed that Turkey had failed to properly investigate the case.
"This verdict is certification of the ongoing state tradition of political murders and its alienation of some citizens as the enemy," Fethiye Cetin, a lawyer for the Dink family, told television reporters at the scene.
Lawyers and human rights groups claim to have discovered several irregularities in the investigation, including deleted evidence and police misinformation of the court.
Advocacy groups such Reporters Without Borders criticised the verdict. "By portraying this murder as the work of a small group of fanatics, the judicial authorities have reflexively protected the state, whose role in this murder has nonetheless been demonstrated by all the independent investigations," a spokesman said.
Amnesty International's Turkey researcher, Andrew Gardner, told the Guardian: "There has been evidence since the time of the murder indicating that those on trial were working as part of a network, that state officials were complicit in the murder. This has been acknowledged by the Dink family lawyers, defendants in the case, the prosecutor and a state administrative investigation. Yet those individuals were not investigated effectively, they were not prosecuted.
"The court concluded that there was no organisation behind the murder, moving still further from the weight of evidence."
When the hearing ended, hundreds of people, including journalists and human rights activists, marched from the courthouse in the Istanbul suburb of Besiktas to the headquarters of Agos, the weekly newspaper founded by Dink.
Reporters Without Borders warned that Hayal could be granted a provisional release because he has been jailed since 2007. Article 102 of Turkey's code of criminal procedure limits preventive detention to a maximum of five years.