Turkish military forces have bombarded the US backed Kurdish forces and the Islamic State (Isis) militant positions in two separate attacks in northern Syria, local media reported on Monday, 22 August.

"The fundamental aim in the latest operation is to open a corridor for moderate rebels," a Turkish official told Reuters. The YPG positions were hit 20 times and the cross border battle with Isis militants is still going on, the official added.
According to CNN Turk and NTV, military howitzers stationed within Turkey fired on IS (Daesh) positions near the town of Jarablus. Kurdish People's Protection Units (YPG) positions in the north of town of Manbij were also targeted.
This comes after Ankara pledged to drive out Isis forces from the border area it shares with Syria. Ankara has also voiced its opinion against the US-backed Syrian Kurds – the YPG fighters – who it views as an extension of Kurdistan Workers Party (PKK). The PKK in the south eastern region of Turkey took up arms in 1984 to establish an autonomous Kurdistan.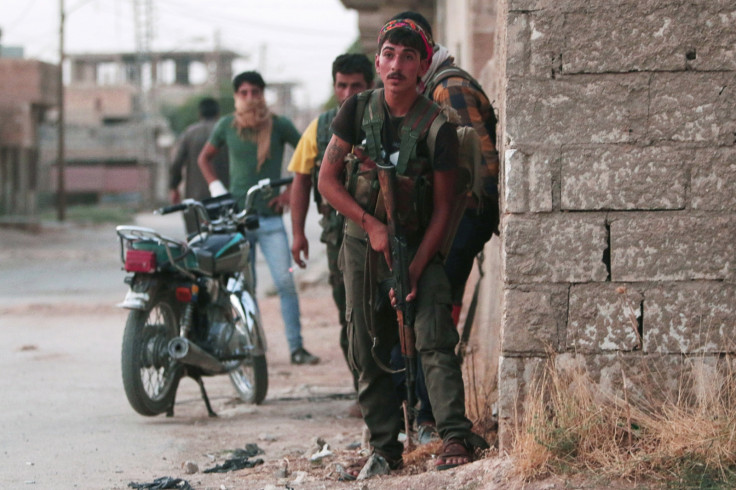 According to Al Jazeera, Turkey sees the presence of Kurdish forces in northern Syria as an intolerable "red line" and wants the Free Syrian Army (FSA) to capture areas that were once controlled by the Isis in the border area.
The YPG is in charge of huge swathes of land across north-eastern Syria, from towns of Hasakah to Afrin, and its political unit – Kurdish Democratic Union Party (PYD) – controls a region called Rojava. The YPG is a significant part of the US backed Syrian Democratic Forces (SDF) , an Arab and Kurdish alliance, fighting Isis in Syria. The US and European Union sees the YPG as an ally in the fight against Isis. The YPG, earlier this month, drove away Isis fighters from Manbij with the help of US air strikes.
It was reported on Sunday, 21 August that the Turkish-backed FSA was going to mount an attack into Jarablus to avoid any Kurdish control over the area