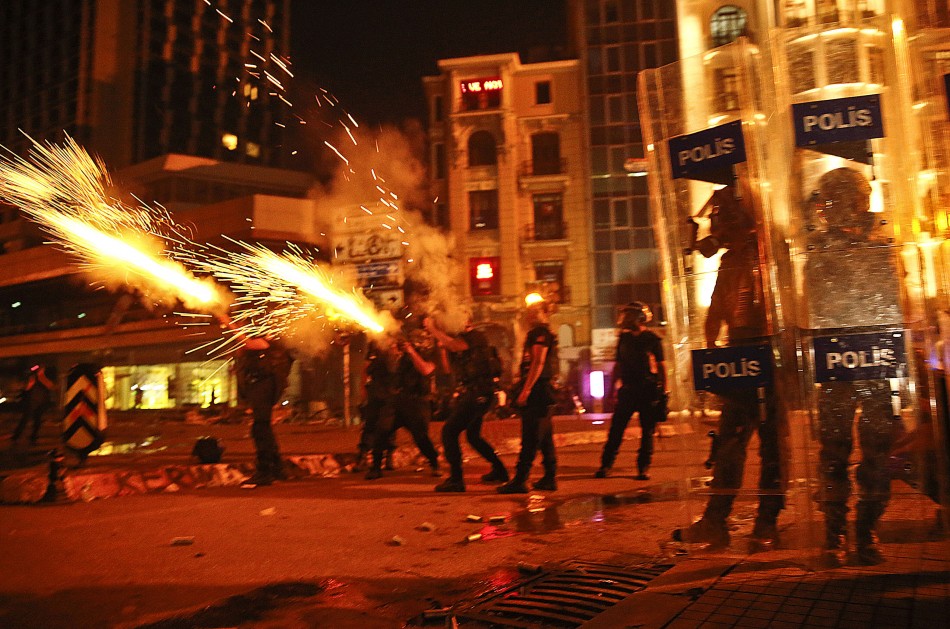 Clashes between Turkish riot police and anti-government protesters have erupted again in Istanbul's Taksim Square, putting a dampener on proposed talks between Prime Minister Recep Tayyip Erdogan and opposition groups.
A day after riot police used teargas, rubber bullets and water cannon to clear the area, skirmishes continued on the fringes of the square as two weeks of civil unrest showed no signs of abating.
Scores of people were reported injured although the exact number is not known. Nearly 5,000 people are believed to have sustained injuries while at least 600 police personnel reportedly wounded over the last two weeks.
"I plead with citizens at the site to separate themselves from this marginal group and abandon the square. It is important that our demand is carried out for everyone's security," tweeted Huseyin Avni Mutlu, the governor of Istanbul.
The governor said the "marginal groups" had attacked the police stationed in the area.
"We will continue our measures in an unremitting manner, whether day or night, until marginal elements are cleared and the square is open to the people," he said.
Despite the crackdown, protesters have continued to converge on the square.
The latest crackdown came as a surprise as it followed Erdogan's announcement that he would hold talks with some of the protest leaders.
However, Taksim Solidarity Platform, one of the main groups, pulled out in protest at police brutality.
"There's no room for dialogue when there's ongoing violence," said group spokesman Mucella Yapici.
Erdogan, who has defended the police operations, said in a televised address: "To those of you at Taksim and elsewhere taking part in the demonstrations with sincere feelings I call on you to leave those places and end these incidents and I send you my love.
"But for those who want to continue with the incidents I say: 'It's over.' As of now we have no tolerance."
READ:
Turkey Protests: Erdogan's Government No Longer Legitimate [BLOG]
Ankara Police Shoot Turkish Protester Ethem Sarısülük in Shock Video [VIDEO]