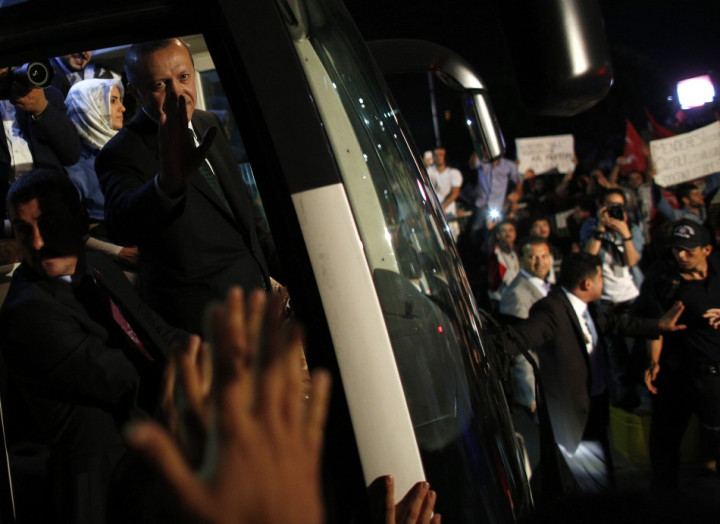 Turkish Prime Minister's plane landed on Thursday night to a nation shaken by protests, in what seems to be Turkey's worst political turmoil in decades.
More than 10,000 supporters of Recep Tayyip Erdogan have flocked to Istanbul's Ataturk Airport to greet him."These protests that are bordering on illegality must come to an end as of now," he ordered on his arrival.
Back from a visit to North Africa, where he was long heralded as a source of inspiration and a supporter of the democratic demands of its neighbours in transition, Erdogan has to face an unprecedented popular challenge within his own country.
Stakes could not be higher for the AKP leader who had been preparing his bid for the 2014 presidential elections with an unquestioning and overwhelming support. The Gezi Park protests, started on May 28, seem to have shaken the Pandora's box of the contrasts within Turkish society with seemingly no chance of return.
Young and old, nationalists and Kurds, Sunni and Alevis (A Muslim sect drawing on Shia and Sufi traditions) from across the political spectrum found themselves together in a spontaneous coalition of anger against Erdogan's extremely divisive policies and rising authoritarian moves.
Alarm bells started to ring with the first opinion polls on the on-going peace process with jailed Kurdish leader Abdullah Ocalan. The polls revealed a silent majority strongly opposed Erdogan's deal with the Kurdish Peace and Democracy Party over constitutional reforms.
The contrast between the nationalists and the Kurds, however, is just one side of Turkey's rising polarisation. Secularists have long criticised the government's Islamist inclinations, both protesting against the recent restriction on the sale of alcohol and the prime minister's warnings against public displays of male-female affection.
On the other side, religious minorities feel increasingly threatened by Erdogan's growing sectarian expressions. His recent definition of the cemevis [Alevi houses of worship] as merely "places of cultural activity" has inflamed Turkey's largest Islamic minority (25% of the 60m total).
A broader outcry against the government's tools of coercion, such as the catch-all anti-terror laws and the various forms of pressure on media outlets, has led to a highly explosive situation, resulting in the deadly clashes which occurred in more than 60 Turkish provinces.
The fate of Erdogan's political fortunes depends on how he handles these multiple contrasts once back in Ankara.
What is sure is that his "divide-and-conquer" policy is no longer a viable path.
The former "winner-takes-it-all" approach risks moving into a serious "lose-lose" game if he turns a deaf ear to society's heterogeneous demands.
The prime minister has never been a dictator, but the rightful winner of three consecutive elections, each time with a larger percentage of votes.
As he himself acknowledged, his political fate will be decided at the ballot box and not on the streets.
This time, however, he may pay a high price for ignoring those tensions, and the slightest mistake may open the door to largely unpredictable outcomes.
Emanuela Pergolizzi is an expert in Turkish affairs. She has published an essay entitled "AKP foreign policy: a 'neo' or 'post' Ottoman recap?". From 2013 she covered the peace process between the Turkish government and Kurdish jailed leader Abdullah Ocalan. She writes for Osservatorio Iraq and Resetdoc.