Ankara Police Shoot Turkish Protester Ethem Sarısülük in Shock Video [VIDEO]
Ankara prosecutor launches investigation into film of Turkish protester shot in the head by riot police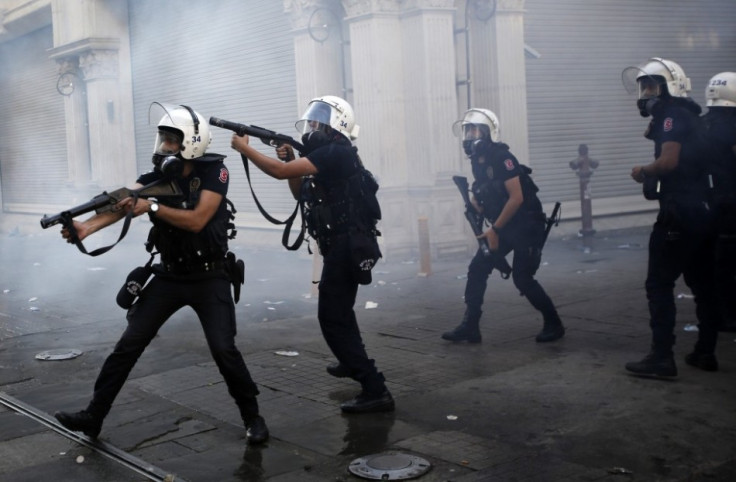 Ankara's public prosecutor has opened an investigation into the alleged shooting of a Turkish protester in the head by police.
Ethem Sarısülük, 27, was reported to be in serious condition in Ankara's Numune Training and Research Hospital after being shot by a police officer in the capital's Kizilay Square during anti-government protests.
A video on YouTube purportedly shows an officer kicking away a demonstrator who is surrounded by 20 people waving flags and banners. The policeman points a gun at the group and fires before running off to a group of officers. A man collapses on the pavement as demonstrators surround the body and scream for help.
The video, filmed by Turkish Kanal D broadcast, could not be independently verified.
According to Sarısülük's lawyer, Kazim Bayraktar, the protester's situation was "very serious".
"We are expecting bad news at every moment," he told Bianet website. "Brain and heart are working but the organs are weakening."
Milliyet news reported that the public prosecutor demanded the policeman's name but the police refused to comply.
Bayraktar claimed a police cover-up was in progress. "It's clear that the incident was a police shooting: that's what video images and witnesses have told us," he said.
A retired soldier heard the riot police officer fire the first bullet and turned in the direction of the shooting, according to Milliyet. He said the same officer shot "several times" in the direction of the crowd. Other witnesses said the officer shot six or seven times. Ballistics experts said that the bullet could have bounced in the pavement and hit Sarısülük.
(Alberto Tetta from Istanbul helped with the translation for this piece)
READ:
Turkey Protests: Erdogan's Government No Longer Legitimate [BLOG]
© Copyright IBTimes 2023. All rights reserved.