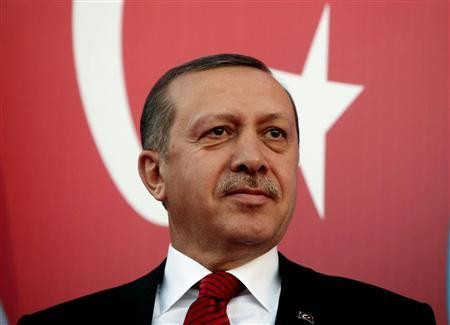 Turkish Prime Minister Recep Tayyip Erdoğan claimed "dictators" were to blame for bloodshed in the Middle East and urged the international community to intervene to help find a peaceful solution to ongoing conflict in the region.
In a video message recorded for the UN Alliance of Civilizations meeting in Doha at the weekend, the prime minister said that authoritarian rulers were the main obstacle to achieving peace and stability in the region, Anatolia News Agency reported.
"As long as there are dictators who open fire and massacre their own people and cannot bear any opposing views or action, there will not be peace and stability in the Middle East," he said. "Bloodshed and tears must end in the Middle East."
The prime minister has raised his tone against authoritarian governments in the Middle East over the past year, becoming much more critical of them.
He had to cancel his trip to the forum under the advice of his doctors after he underwent minor surgery on his digestive tract last week.
The meeting was attended by participants from more than 130 countries, including UN Secretary-General Ban Ki-moon.
In his recorded message, Mr Erdoğan also talked about the Mavi Marmara flotilla incident last year, when Turkish citizens were killed by Israeli soldiers while trying to defy an embargo on Gaza.
""While we were struggling for global peace, prosperity and justice in Rio [during a meeting of the Alliance of Civilizations last year], peace, prosperity and international law were violated and sabotaged in the Mediterranean," he said in reference to the Israeli raid, which left nine Turkish citizens dead.
He also expressed his disapproval over the United States cutting $60 million in funding to UNESCO after the UN accepted Palestine as a full member.
"Palestine joined UNESCO and the US stopped supporting it. Turkey will fund UNESCO along with other nations," Mr Erdogan said. "I'm sure other nations will join us. We can have peace."
His comments came after the US Republican presidential candidate Newt Gingrich dubbed the Palestinians as "invented people", sparking harsh criticism and indignation both inside and outside the country.