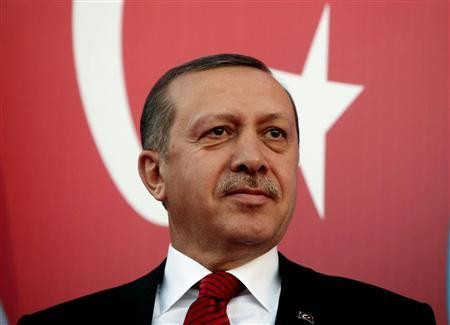 Turkish Prime Minister Recep Tayyip Erdoğan has called on embattled Syrian leader Bashar al Assad to resign, reminding him of the tragic ends of Adolf Hitler and Benito Mussolini.
Speaking during his Justice and Development Party's meeting, Erdoğan urged Assad to step down for the welfare of his own people and the region.
"Assad is showing up and saying he would fight to the death. For God's sake, against whom will you fight? Fighting against your own people is not heroism, but cowardice," he said.
"If you want to see someone who has fought until death against his own people, just look at Nazi Germany, just look at Hitler, at Mussolini, at Nicolae Ceausescu in Romania," he added.
Adolf Hitler killed himself in his bunker as Allied forces closed in on Berlin, Italian leader Benito Mussolini was hung up from a streetlamp by an angry mob and the Romanian communist dictator Ceausescu was executed by firing squad on Christmas Day 1989.
Erdoğan then brought up Muammar Gaddafi, who was killed 32 days ago. "If you cannot draw any lessons from them, then look at the Libyan leader who was killed in a manner none of us would wish for and who used the same expression you used."
The prime minister referred to Assad's refusal to resign despite the expiry of an Arab League deadline for his government to end its lethal crackdown on protesters, which left 20 people dead.
Condemning a recent attack on three buses carrying 25 Turkish pilgrims as they passed through Syria from Saudi Arabia, Erdoğan called on Assad to find the perpetrators of the attack, as well as those responsible for earlier attacks on Turkish missions in Syria.
"The Syrian administration did not prevent the attack on buses carrying pilgrims," he said. "Protecting citizens of a foreign country... is a matter of honour for a country."
Erdoğan has grown increasingly critical of the Syrian regime and said last week that the world must urgently "hear the screams" of Syria and do something to stop the bloodshed.
This is the first explicit demand for Assad's resignation from Turkey.