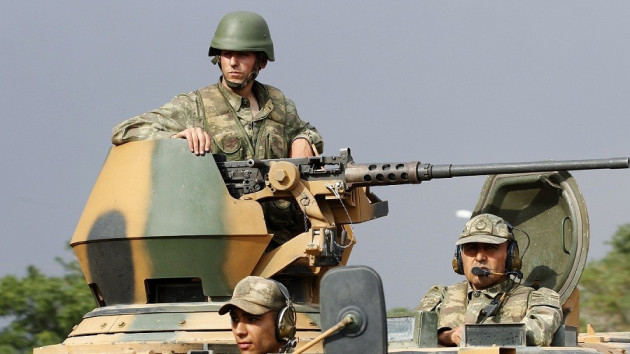 Turkey has increased its military presence at Diyabakir, near the Syrian border, as tensions grow between the two countries.
After a Syrian military helicopter bombed Azmarin, a Syrian border town, Turkish officials scrambled two fighter planes to the border, a Reuters witness said.
The Turkish Air Force has also transferred 15 fighter jets to the area, while 60 more tanks have been sent, bringing the total to 250, Turkey's Hurriyet newspaper reported.
Earlier this week, Turkish jet fighter forced a Syrian passenger plane to land. Officials said the plane contained military cargo made in Russia.
However, Syrian officials have said the Turkish prime minister, Tayyip Erdogan, is lying about the contents of the plane. Russia has also denied the allegation.
Alexander Lukashevich, foreign military spokesman for Russia, has now demanded that Turkey provides an explanation for grounding the plane.
He said: "Russia insists that the Turkish authorities must explain their conduct regarding Russian citizens and prevent similar incidents in the future."
The increased military presence in Diyabakir is the latest move from Turkey in regards to its ever-worsening relationship with Syria.
On 9 October, Erdogan said the county's armed forces would respond to any attack on Turkey.
"The requirement of being a state means we must take any measure and be prepared for any possibility," he said.
Erdogan also said Turkey is not interested in war but is "not far from it either".
He said: "Those who attempt to test Turkey's deterrence, its decisiveness, its capacity; I say here they are making a fatal mistake."
Last week, tensions between Syria and Turkey rose after five Turkish civilians were killed by Syrian shells exploding in a village on the border.