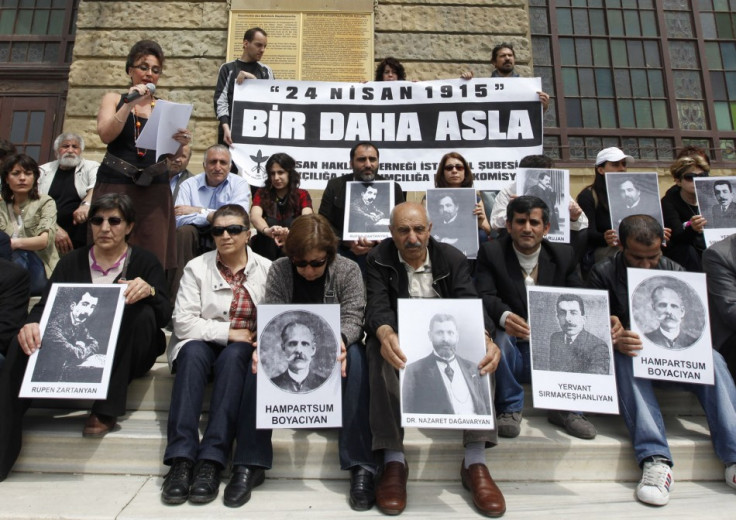 Turkey has threatened to recall its ambassador to France and freeze ties with Paris if the French Parliament passes a bill criminalising the denial of the Armenian genocide.
The French National Assembly is set to debate the proposed legislation Dec. 22. If the bill passes, anyone publicly denying that the 1915 mass killings of Armenians in the Ottoman Empire constituted genocide could be served with a one-year prison sentence and a 45,000 euro fine.
The move has angered Turkey, with politicians and diplomats warning it will affect Turkey's relationship with France.
"There will be irreparable consequences in all bilateral relations," Turkish Ambassador Engin Solakoglu told the AFP news agency.
"Turkey considers this a hostile act by the French executive," said Solakoglu. "All cooperation with the French government, all joint projects, will be frozen," he added before warning he could be called back to Ankara as soon as Dec. 22.
Foreign Minister Ahmet Davutoglu also attacked the legislation telling Turkish parliamentarians on Wednesday it is"out of the question to leave unanswered an attempt by any country leader, government or parliament to dishonour our country and nation."
"If this proposal passes, France will usher in the return of a Middle Ages mentality to Europe," the Anatolia news agency quoted him as saying.
A spokesperson for the French foreign minister refused to respond to the attack, simply saying, "Turkey is an important friend and ally."
France adopted a law officially recognising the 1915 Armenian Genocide in 2001. The legislation stops short of naming the Turks but the move created tensions between Paris and Ankara.
Moreover in 2006 the National Assembly had already debated a similar bill. The proposed law was harshly criticised by Turkish Prime Minister Recep Tayyip Erdogan, who referred to it as a "systematic lie machine".
Turkish diplomats and politicians had at the time also threatened to freeze ties with France.
In a visit to Armenia in October,, French President Nicholas Sarkozy called for Turkey to recognise the genocide saying: "It Turkey came to recognize the dark pages of its history, both Armenia and France would eye it as a gesture of peace and reconciliation, which can never be based on denial".
Turkey's official stance is to acknowledge that large numbers of Armenians were killed by Turks, but the country insists the overall estimate of 1.5 million deaths is inflated.
Ankara also says that the deaths took place following the civil unrest that occurred during the collapse of the Ottoman Empire rather than as a result of a premeditated government's effort to annihilate the influential Christian group.