Turkey uses emergency decree to shut down internet in 11 Kurdish cities amid widespread protests
Among other things, the outages have severely affected news updates on the unrest in the southeast region.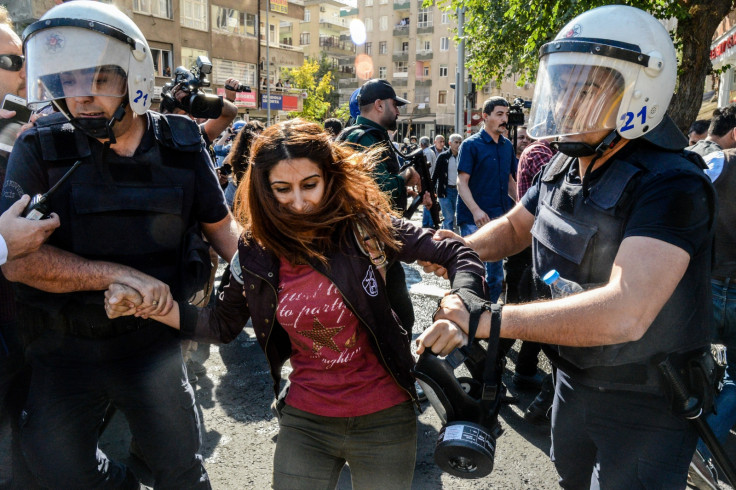 Turkey has shut down mobile and landline internet access in 11 cities in the southeast region amid the Diyarbakir unrest reportedly using an emergency decree.
The shutdown on 26 October reportedly started at around 10am and lasted for around 12 hours, while the outage on 27 October started at 8am and is currently believed to be ongoing, into the third consecutive day. The outage affected 11 cities including Diyarbakır, Mardin, Batman, Siirt, Van, Elazığ, Tunceli, Gaziantep, Şanlıfurfa, Kilis and Adıyaman.
Internet censorship monitoring group TurkeyBlocks said in a report: "Limited information coming from the region indicates that banks and point-of-sales terminals have all been rendered inoperable due to mobile and broadband internet shutdowns, with the incident ongoing as of early afternoon."
The internet clampdown was imposed after locals took to the streets protesting the arrests of Diryabakir's co-mayors Gültan Kışanak and Fırat Anlı on terrorism charges. As much as 8% of Turkey's entire infrastructure has been rendered unreachable and affected around six million people. According to local reports, pharmacies and shops were also severely affected by the outages.
"Internet restrictions are increasingly being used in Turkey to suppress media coverage of political incidents, a form of censorship purportedly to prevent civil unrest," TurkeyBlocks noted. The outage severely affected news updates on the unrest in the southeast region, with some local reporters having to resort to travelling miles to neighbouring cities to report about events, the Daily Dot reported.
Local Diyarbakir journalist Nurcan Baysal reportedly travelled outside the city to report about the ongoing unrest through Twitter, as colleagues in the city provided updates over the phone. Baysal wrote on Twitter, which roughly translated, reads: "They will report the incidents in front of municipality over the phone, and I will write it here #Amed ".
Turkey's deputy Prime Minister Numan Kurtulmuş dismissed the claims of various journalists and activists among others, who linked the internet outages with the protests. Kurtulmuş said, "social media should not be used for provocations", while refraining from providing any explanations on the shutdown, according to local reports.
Network providers in the area also denied claims of an intentional outage. After receiving numerous customer complaints, two of the biggest network providers in the region claimed technical failures. The firms said their staff was working on the issue but have not been able to identify the issue and have currently "no idea" about when the issue would be resolved.
Turkey has also previously censored Twitter accounts of numerous journalists. More recently, the country briefly banned cloud services of major tech giants like Google and Dropbox, in efforts to restrict the propagation of leaked emails.
© Copyright IBTimes 2023. All rights reserved.