Panasonic might be an unlikely name to attach itself to the future of the autonomous car, but at CES 2017 the company was out in force to prove us wrong.
Two separate interior concepts were shown off to IBTimes UK on the show floor in Las Vegas, including the living room-like cabin of a self-driving car, and the intelligent dashboard of a regular car from the next couple of years.
First up, let us take you beyond the year 2020, perhaps even 2030, and to the fully autonomous car. Panasonic has developed a mockup interior of such a vehicle, where driving with a steering wheel and pedals are entirely optional. Instead, turn the driver's seat around, face the rest of the passengers and bond over games played on a table made up for four 20in Ultra HD tablets.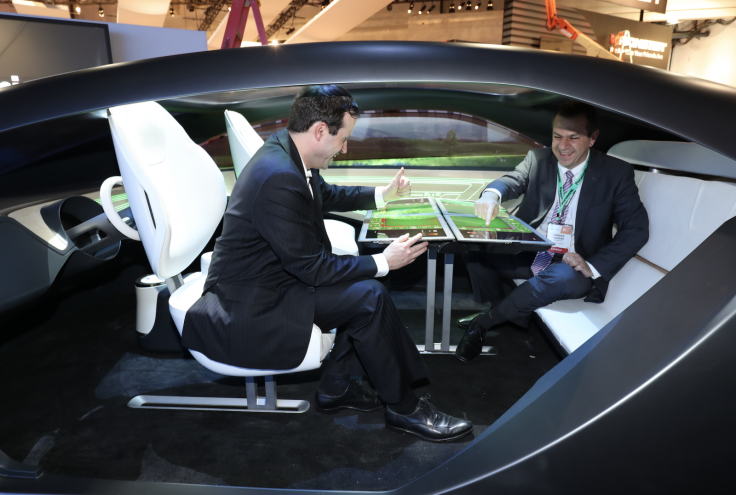 These tablets each have a 4K screen resolution and are touch sensitive. They can be controlled with a finger or what Panasonic is calling a "smart knob", which brings the display to life wherever it is placed and moved around.
As well as the Ultra HD table, the concept interior features a semi-transparent material stretched across each side and with embedded digital displays to show vehicle and route information.
Cameras with a facial recognition system detect what the passengers are looking at through the window. If they look at an object or building for at least three seconds, the car searches online for more information about it, which is then read aloud.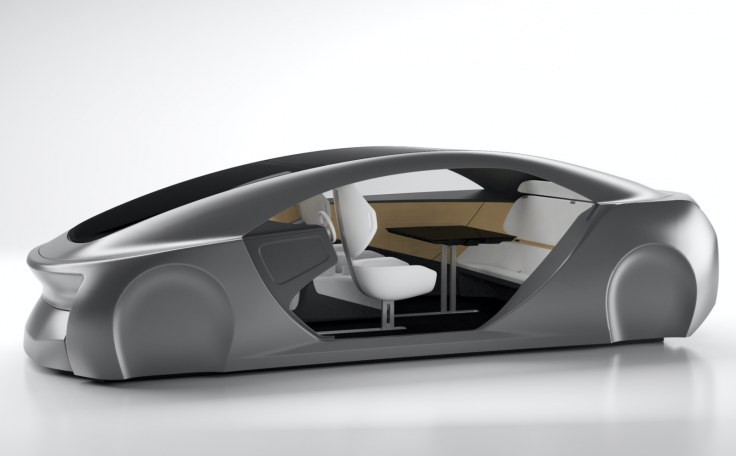 Panasonic admits this concept is many years away from reality – and the wobbly table and chairs will attest to that. But it joins the ever-growing pile of tech companies ready to serve as soon as the car manufacturers (and law makers, insurers and consumers) are ready to go fully autonomous.
Next up from Panasonic is a car interior concept from the near-future. Here, a conventional, human-driven vehicle with regular controls is treated to a new touch interface. Answering the demands of car makers wanting fewer buttons, more touch screens and more functionality, Panasonic has created a material which changes shape and texture depending on what is needed from it. This helps the driver feel their way around a dashboard, but gives the car manufacturer the flexibility and multiple functions of a touchscreen.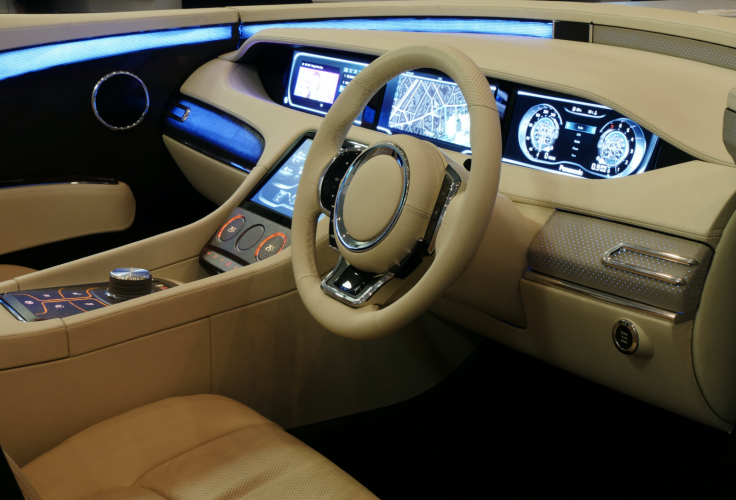 Fabien Roth, general manager for Panasonic's advanced infotainment marketing division, told IBTimes UK: "With touchscreens many people don't like them because they get dirty and they can be difficult to use without looking, while watching the road ahead. So here we are keeping material and we can configure the material; it could be wood, or carbon or whatever you like. And we can make a section where you can define patterns. You can change how it feels and the patterns can be made to disappear. It gives haptic feedback."
Further use of the smart material is seen on the steering wheel and in a strip along the length of the dashboard, just below the windscreen. They can be lit up to relay messages and warnings to the driver, like when they stray out of their lane without indicating.
This concept also employs IBM's artificial intelligence engine, Watson, to help the driver communicate with the car and ask it questions about local landmarks and traffic, for example. Roth claims these technologies are around five years away from appearing in car showrooms.