The winner of the Turner Prize 2012 will be announced live this evening and presented by actor Jude Law.
Channel 4 is to host the event from Tate Britain, London, and the programme will be hosted by Lauren Laverne, joined by panellists Noel Fielding and art critic Adrian Searle.
During the programme, profiles of the shortlisted artists will be featured before the winner, who will receive £25,000, will be announced.
Tabitha Jackson, Channel 4 Arts commissioning editor, said: "We're very proud to be in our 21st year supporting Britain's most respected and provocative contemporary art award."
The shortlist was announced in May and an exhibition of the four artist's works has been on show at the Tate Britain since 2 October.
Nominated artists are Spartacus Chetwynd, Paul Noble, Luke Fowler and Elizabeth Price. The three runners up will each receive £5,000.
Chetwynd was nominated for her solo exhibition at Sadie Coles HQ in London, which including paintings, performances and sculptural installations. Her work "confuses the boundary between performer and spectator, creating an atmosphere of joyful improvisation," the Tate said.
Fowler uses found footage mixed with his own material to create a film that shows the zeitgeist of a particular era, showing how society and individuals change through time.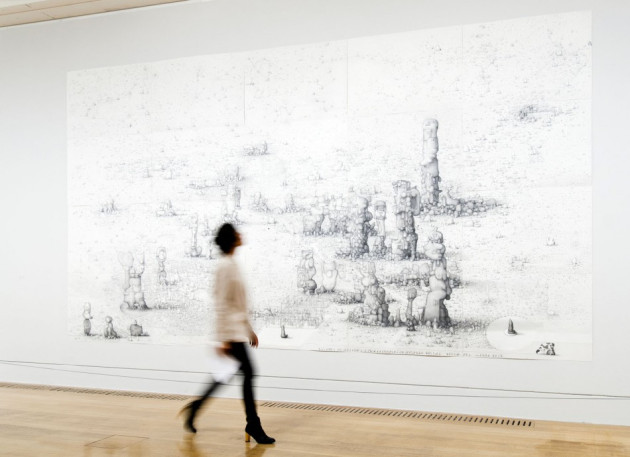 Noble's works are of detailed drawings showing fictional metropolis Nobson Newtown, which has a dark satirical narrative unfolding in the pictures.
Price was nominated for her exhibition at the BALTIC, Centre for Contemporary Art, Gateshead, where she presented a trilogy of video installations. The Tate said: "Her carefully sequenced films guide us through immersive virtual spaces, derived from the cultural debris of the material world."
The judging panel consists of five experts, including Penelope Curtis, director of the Tate Britain and chair of the jury and Michael Stanley, who was director of Modern Art Oxford.
Stanley died on 21 September this year and following his death, Sally Abbott, South East regional director at Arts Council England said: "The news of Michael Stanley's death is a terrible shock to the arts and cultural community.
"Michael was internationally renowned as an innovative and visionary arts leader, who brought to Modern Art Oxford, and Milton Keynes Gallery before that, some of the most exciting contemporary artists working in the world today.
'Michael was highly committed to providing opportunities for people from all walks of life to engage with the arts and was in the process of spearheading a collaborative approach to improving the arts and cultural offer across Oxford.
"Every time I met Michael I walked away feeling like anything was possible. He was an inspiration to us all and he will be deeply missed."
The Turner Prize was established in 1984 to award British artists under the age of 50 for outstanding exhibitions in the last year. Previous winners include Grayson Perry, Steve McQueen, Gilbert and George and Damien Hirst.
The Turner Prize is on Channel 4 at 7.30pm tonight (Monday)