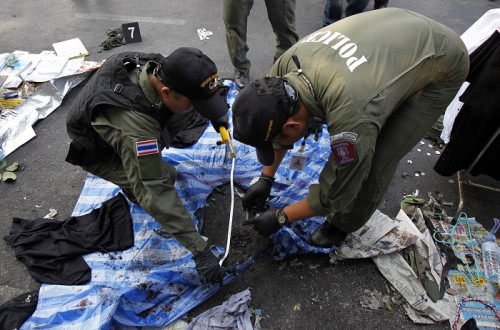 At least 28 people have been injured in two explosions in Bangkok at a rally against embattled Thailand Prime Minister Yingluck Shinawatra.
According to eyewitnesses, the first blast occurred on Sunday about 100-200 metres from a stage set up by protesters and left a small crater beside a market stall. The second occurred two minutes later near stalls selling anti-government T-shirts.
The victims, who include a local journalist, were taken to four different Bangkok hospitals, according to sources at the local Erawan Medical Center.
Sunday's attack came hours after gunmen opened fire on protesters shortly before midnight on Saturday, injuring an anti-government activist.
Two other explosions at an anti-government rally on Friday wounded more than two dozen people. Emergency officials said a man injured at the Friday protest died the following day.
Protests during the day in Bangkok have largely been calm but assaults have been reported at night, with shootings at protest venues and small explosives being hurled at the residences of high-profile protest supporters.
So far, nine people have died and more than 450 have been wounded since demonstrations against Shinawatra's government began in November.
The protesters control several small patches of Bangkok and are calling for Shinawatra to step down. Last month the PM dissolved parliament in an attempt to quell the protests, and called for new elections to be held on 2 February.
However, the move has failed to placate protesters, who have maintained their demand for Shinawatra to step down from her caretaker position in favour of a "people's council" to oversee the election, as has been the procedure in previous years.
The opposition Democratic Party has vowed to boycott the forthcoming election, with party leader Abhisit Vejjajiva dismissing the current Thai political process as "failed".
The current wave of protests began in November when the ruling Pheu Thai party attempted to push through an amnesty bill that would have rescinded the corruption charges facing Shinawatra's brother, former premier Thaksin, and opened the door for his return from self-imposed exile.