In an interesting turn of events, popular micro-blogging site, Twitter, has emerged as a very helpful tool to fight crime and injustice in Kenya.
Francis Kariuki, the administrative chief of Lanet Umoja, has helped fight theft and burglary through tweets on Twitter.
With over 700 followers, Kariuki (@Chiefkariuki) is sure that he is reaching out to thousands of villagers in need of help.
For instance, Kariuki helped a school teacher escape a robbery attempt by posting the news on Twitter. The teacher had called Kariuki and informed him when she saw the burglars. The villagers immediately rushed to help the teacher, thus saving her.
"There is a brown and white sheep which has gone missing with a nylon rope around its neck and it belongs to Mwangi's father," he tweeted recently in Swahili. The sheep was soon recovered after people saw the post.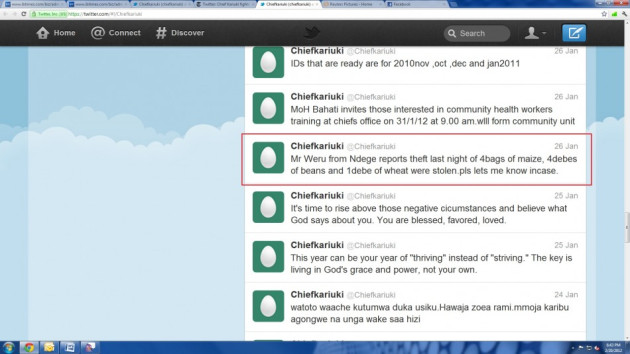 Kariuki is a very happy man now that Twitter has helped him reduce crimes in his area.
"Twitter has helped save time and money. I no longer have to write letters or print posters which take time to distribute and are expensive," Kariuki was quoted as saying by The Telegraph.
The 47-year-old-chief intends to promote peace in Kenya and fight injustice through Twitter. Kenya's Internet usage has been continuously increasing according to a recent report.