With Twitter (US code: TWTR) likely to follow Linkedin into the arms of a tech giant with deep pockets, the question is: who's next on the shopping list of tech behemoths like Google, Apple and Microsoft?
To recap: the business-focused social networking company Linkedin (LNKD) was bought up by Microsoft earlier this year for $26.2bn (Chart 1), while the core business of former internet pioneer Yahoo! (YHOO) was snapped up by US telecom company Verizon for $4.8bn.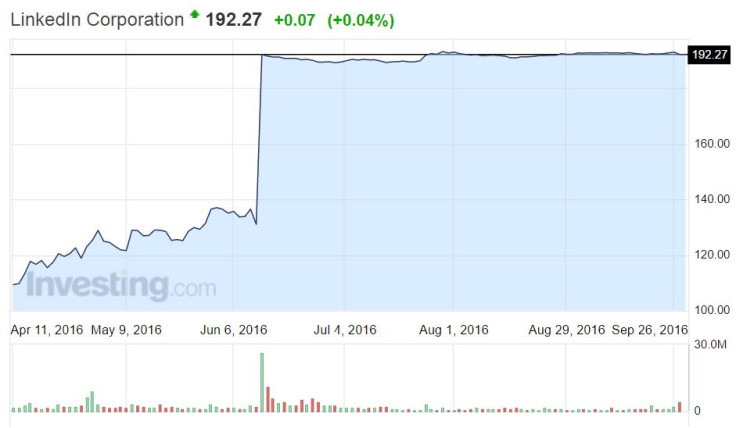 On Friday, Twitter's share price surged by over 17% to over $23 per share (Chart 2) on the back of rumours that either Google or Salesforce.com were about to bid for the company.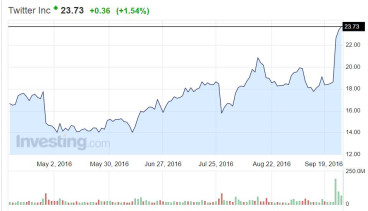 This is a classic case of an industry in the throes of consolidation: that is, fewer and fewer large companies buy up smaller rivals in order to dominate the business landscape. In this case, we can see that the internet landscape in being increasingly dominated by Google, Facebook and Microsoft.
Let's take a quick look at each of the mooted bidders for Twitter, and examine why they might find Twitter an interesting business to absorb.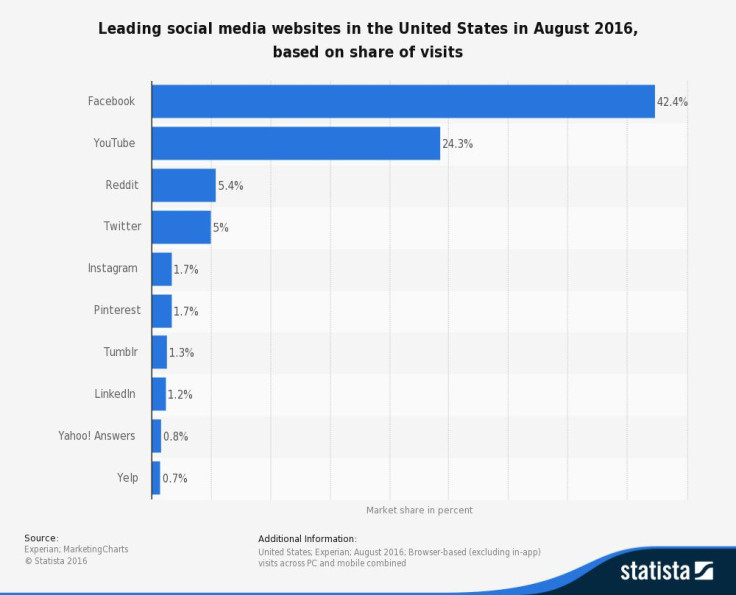 Google/Alphabet (GOOGL): Beef up social networking footprint given Google+ also-ran status
Why would Google be interested in buying up Twitter, to add to its stable of internet-related acquisitions such as Youtube (online video), Doubleclick and Admob (both in online advertising)?
Well, let's start with the obvious. Google has singularly failed to compete effectively with Facebook in the social media space, allowing Facebook to dominate. Buying up Twitter would be one way for Google to grow its social media footprint massively in one go.
The main revenues at Twitter come in the form of advertising revenues: well one thing is clear, that Google is a market leader in the online advertising space, and so could certainly find growth from synergies with Google's existing online ad businesses, including of course Youtube.
Financing a potential buyout of Twitter at, let's say, $26 per share which was Twitters IPO price and well above the current $23-odd level would cost around $19bn. For a company of Google's size and considerable power, who have over $78bn in the bank currently, even a $19bn should not prove too heavy a burden, representing less than 4% of the value of Google.
Salesforce.com (CRM) – a second suitor from the online software space
Salesforce.com is an online business software company that operates Customer Relationship Management software for its business clients. This is basically an online database where a company's employees can store their notes about all discussions between themselves and their various clients, track the amount of client contact that employees have and thus measure their productivity.
Twitter would be a much bigger morsel for salesforce.com to swallow, given that $19bn would represent nearly 40% of Salesforce.com's current size.
Twitter has what is potentially a very valuable user database that Salesforce.com could exploit in their own business; but it is difficult to see them competing on price with Google, given the tech giant's hugely superior financial muscle.
Microsoft (MSFT): still absorbing Linkedin
Microsoft is another technology giant that, like Google, has struggled to reach critical mass in the consumer internet space, with its search engine Bing notably struggling to compete with market leader Google.
In addition, Microsoft is still in the process of absorbing business-focused social media pioneer Linkedin, which cost Microsoft a hefty $26bn just recently. The fit between business software leader Microsoft and Linkedin is obvious to see, given Linkedin's focus on business social networks.
So it is difficult to see the Redmond, Seattle-based software gorilla taking another big bite in the social media space just yet, given the risks of indigestion.
Disney (DIS): Does this make sense?
Last but not least, the US TV and film giant Disney has expressed interest in buying Twitter. The reasoning behind such interest is perhaps hard to see at first.
It perhaps becomes a little clearer when you consider that Twitter recently broadcast NFL American Football night games over the internet, a business that Disney's ESPN TV sports division knows very well.
Add in the fact that Twitter's founder, Jack Dorsey, sits on Disney's board of directors, and the reasons for Disney potentially bidding for Twitter become somewhat clearer. Financing for such a deal is quite doable for Disney too, given a relatively low debt-load.
But the real question is whether Disney, a traditional media player, is well-equipped to get the best out of this social media player.
Previous internet and media marriages have ended in messy divorce in the past – just think of the AOL/Time Warner merger back in the heady days of 2000 or News Corp. buying up Myspace (where is Myspace today?). For that reason, I don't think a successful Disney bid is likely.
Most likely outcomes for Twitter: Google takeover, or stays independent
In my humble opinion, the most likely outcomes for the loss-making Twitter are the following:
Google pays between $26 and $30 per share to buy Twitter in a deal agreed by the Twitter management;
Twitter rejects all takeover offers and decides to continue to go it alone, resulting in a share price drop of up to 40% from current levels.
Two final questions: who else could be bought, and what can investors buy?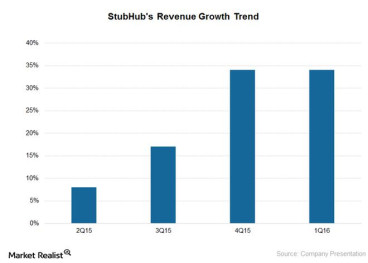 Which internet company could be the next in line to be bought up by a bigger player? I would look at eBay which – post spin-off of the Paypal division into a separately-listed company – is now a cheap internet company, with valuable growth in the form of Stubhub, an online sales platform for concert, sports and theatre tickets (Chart 4).
Otherwise, I still believe that the tech-heavy Nasdaq 100 index in the US is worth investing in, to capture the growth in all these businesses. This can be accessed in the UK with the Powershares EQQQ Nasdaq 100 UCITS ETF (UK code EQQQ).