A half-hour power cut in the third quarter proved to be the most tweeted moment of the 2013 Super Bowl, and it took just four minutes of darkness for the first promoted tweets to appear.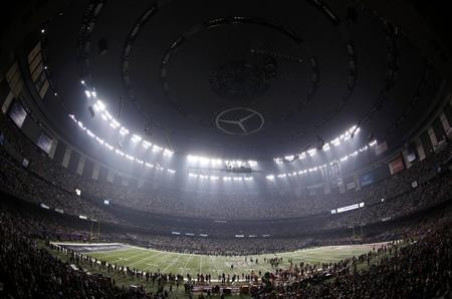 Super Bowl XLVII between the Baltimore Ravens and the San Francisco 49ers was delayed for 35 minutes on Sunday due to a power surge at the Mercedes Benz Superdome in New Orleans, prompting viewers to post 231,500 tweets per minute.
Just four minutes after the stadium went dark and play was halted, advertisers set to work, posting hastily-made images in a series of promoted tweets appearing in Twitter searches for 'power outage', the social network reported.
Oreo went with "Power out? No problem." and a picture of a cookie with the caption "You can still dunk in the dark."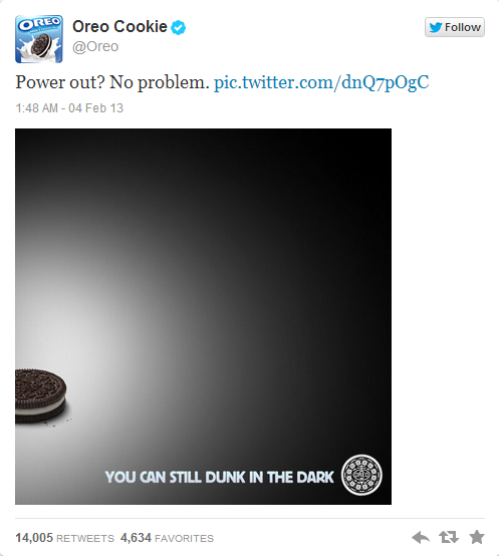 Companies advertising at half time - worth in excess of £2 million for a 30 second slot - included Samsung and BlackBerry, and half of the 52 national adverts included a hashtag on screen, up from one in five last year.
This compares to Facebook being mentioned just four times during the commercials, according to a report by Marketing Land, while Google+ wasn't mentioned once. Instagram and YouTube got one mention each.
Last year, Twitter and Facebook tied with eight mentions each across 59 adverts, representing a 300 percent gain for Twitter in 2013, and a 50 percent decline for Facebook, showing without question where advertisers would rather target TV viewers.
As Matt McGee of Marketing Land concluded: "When it comes to second-screen advertising, it's Twitter's world now and there's no close second place."
But the real winner was Oreo, whose hastily-made Twitter advert was shared more than 10,000 times over the following hour and 18,000 times by the time the game ended, and all for a fraction of the price of a televised ad.
Sarah Hofstetter, president of Oreo's ad agency 360i told BuzzFeed in an interview that the advert was designed and approved within minutes, adding that all the decisions were made in real time because all key staff were sat together in a "mission control" as the game took place.
"We had a mission control set up at our office with the brand and 360i, and when the blackout happened, the team looked at it as an opportunity. Because the brand team was there, it was easy to get approvals and get it up in minutes," Hofstetter added.
As for the gameplay itself, the most-tweeted moments included a 108 yard kickoff return for a Ravens' touchdown by Jacoby Jones (185,000 tweets per minute (TPM)), the moment the clock expired and the Ravens won (183,000 TPM), and when Jones caught a 56 yard pass for another Ravens touchdown at the end of the second quarter (168,000 TPM).
A total of 24.1 million tweets were posted during the game, not including the halftime show by Beyonce or the adverts, surpassing last year's 13.7 million total in the first half alone.
Beyonce's halftime show - counted separately to tweets posted during the game itself - generated 5.5 million tweets, peaking with 268,000 tweets per minute at its conclusion.