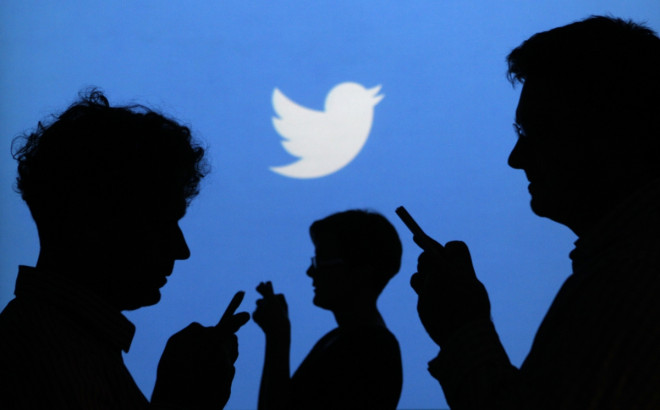 Twitter turns eight (Friday) and to celebrate this momentous-ish birthday we've collected the most important tweets in the website's history to tell the story of a social media giant.
Inspired by Flickr, the original name for the social networking platform was Twttr, and on 21 March, 2006, founder Jack Dorsey hit "send" on the web's first tweet. Little did he know that he was about to change the world.
In the eight years since, Twitter has become a tool of the masses. It is where the Arab Spring was sprung, it's where countless protests have been set up, it's where wrongdoing has been exposed and it's where pop music fans have declared their undying love for Justin Bieber, One Direction and, er, Kingsland Road.
Okay, so it's not a perfect place, having had its share of embarrassing moments (#susanalbumparty springs to mind). By and large however it has proven a useful tool and for many an integral part of modern life
Here's the story of Twitter in 15 tweets.
---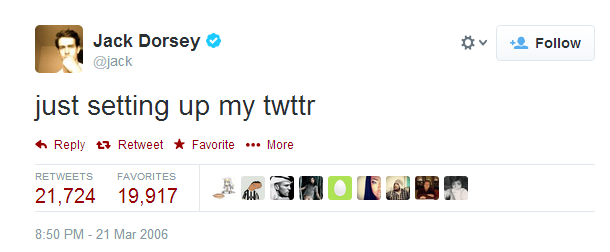 The very first tweet. The tipping point for Twitter's popularity came in 2007 however, when the minds behind it went to South by Southwest (SXSW) festival to show off the website. Twitter's usage boomed from 20,000 tweets per day to 60,000.
---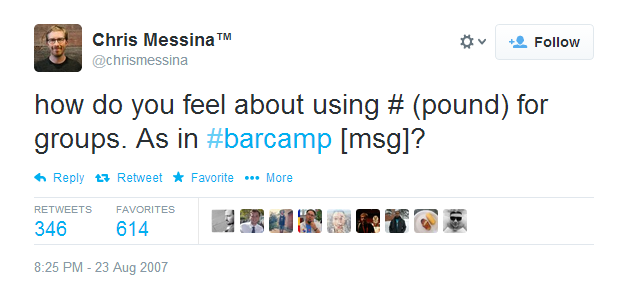 Hashtags are a key part of Twitter and have since been included in other social media platforms as well. They're crucial to Instagram and were recently added to Facebook too, allowing people to track events.
---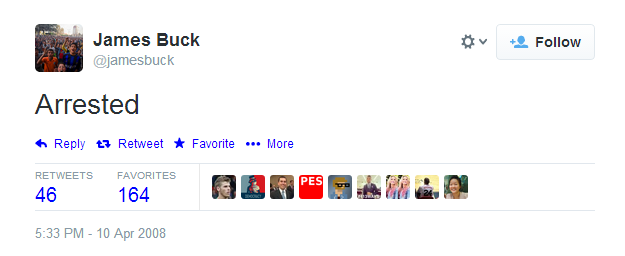 One such event was the Arab Spring, in which social media played a key part. This particular tweet, however, was an early example of Twitter justice in practice. James Buck was a student reporting on anti-government protests in Egypt when he and his translator were arrested. Buck sent this tweet, which quickly reached the masses and resulted in his university hiring a lawyer on his behalf. He was released the very next day.
---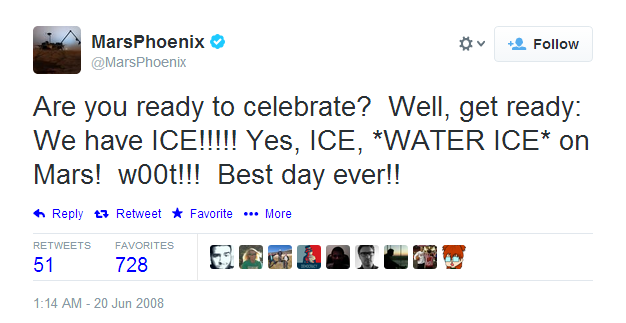 One month previously, the Phoenix rover landed on the red planet in a quest for evidence of water. Its endeavours were successful, and on 20 June it tweeted the news that it had found ice "WATER ICE" on Mars. "woo!!! Best day ever!!" it said, rather embarrassingly.
---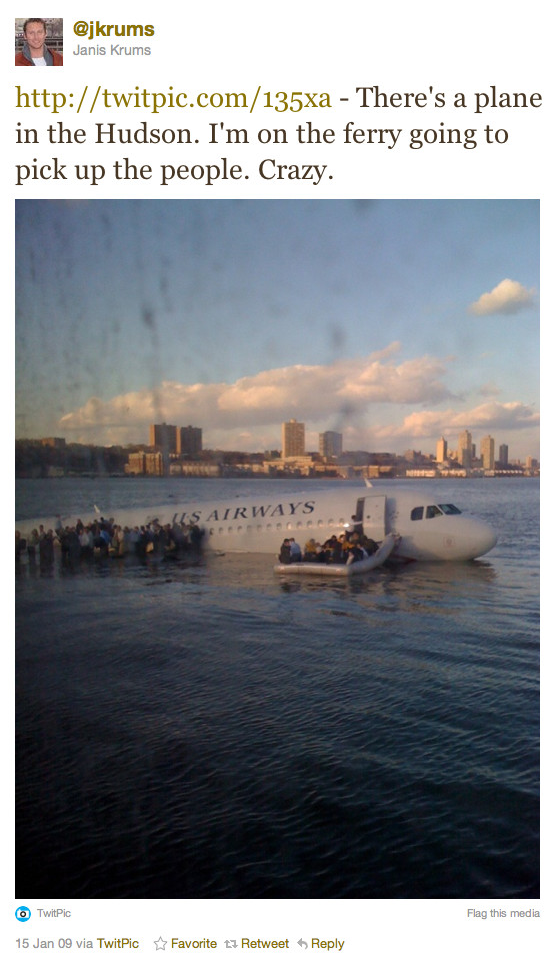 Twitter has long been a fantastic tool for journalists and citizen journalists alike. Pictures and video live from the scene, wrongdoings exposed in public, and millions calling out Katie Hopkins for being generally awful. Perhaps the most famous example was the above, as one man saw a plane, piloted by heroic Captain Chesley Sullenberger, crashland on the Hudson river.
---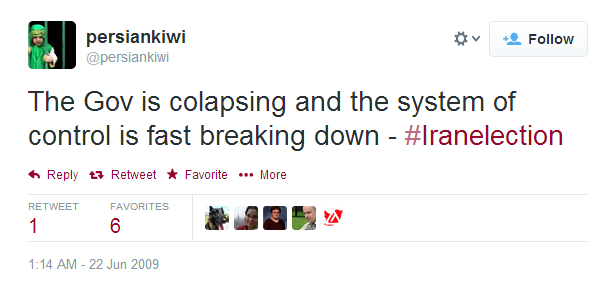 During the Iranian Revolution of 2009, Twitter become a valuable ally of the angry and oppressed. One such account, PersianKiwi, became a valuable source of knowledge from the scene, and was regularly cited by global media.
---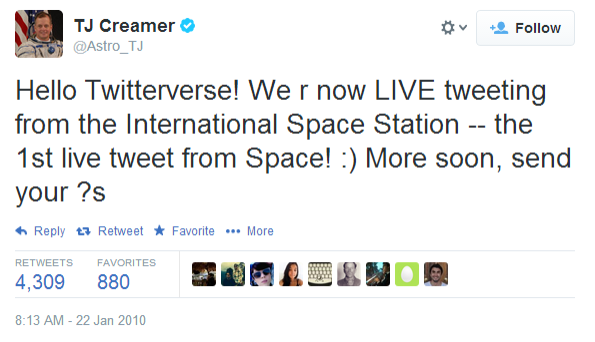 Any old robot Rover can tweet from space. The first human to do so was astronaut Timothy 'TJ' Creamer, who asked for questions while he floated aboard the International Space Station.
---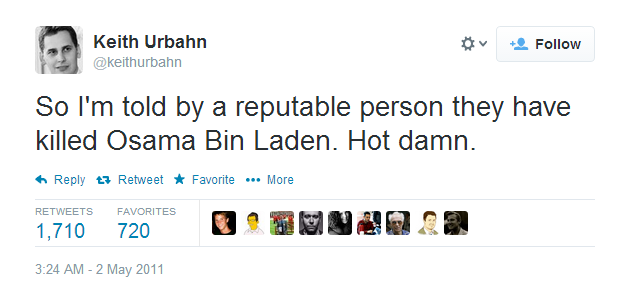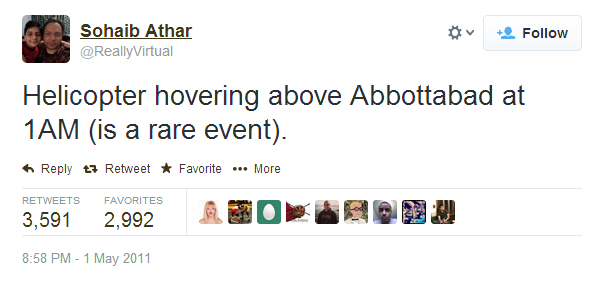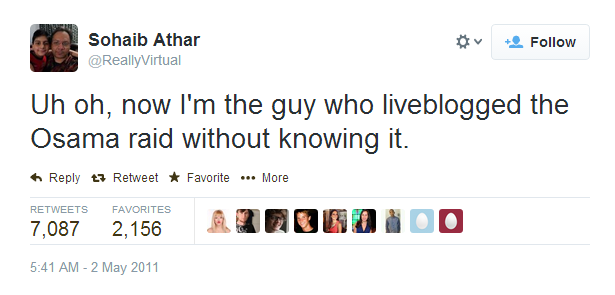 On the night of 1 May, 2011, rumours ran rampant on Twitter that the United States had at long last found al-Qaida's leader Osama Bin Laden. Long before President Obama made the official announcement, the news was already filtering through Twitter, with former wrestler The Rock even knowing about it before most.
In Pakistan, one man was also contributing to events, though he had no idea at the time just how momentous they were. Sohaib Athar first tweeted about a "rare" overhead helicopter, then later saw the funny side when he discovered he had, unbeknownst to him, liveblogged the Osama raid.
---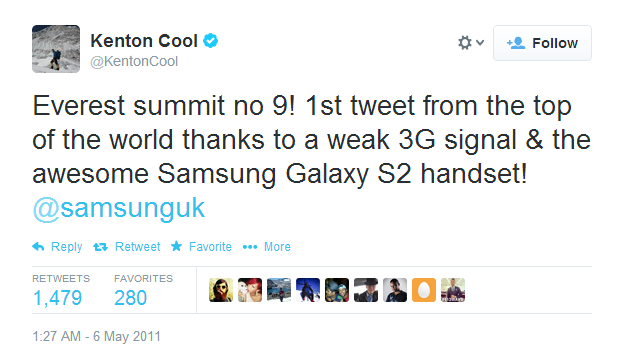 The first tweet from the top of the world (rather than orbiting it or from another one) came in 2011 when Kenton Cool produced the "first tweet from the top of the world" before indulging in some shameless promotion. I have no idea how he tweeted it, my fingers are usually too cold to type coherent sentences during a UK winter, let alone on top of a mountain.
---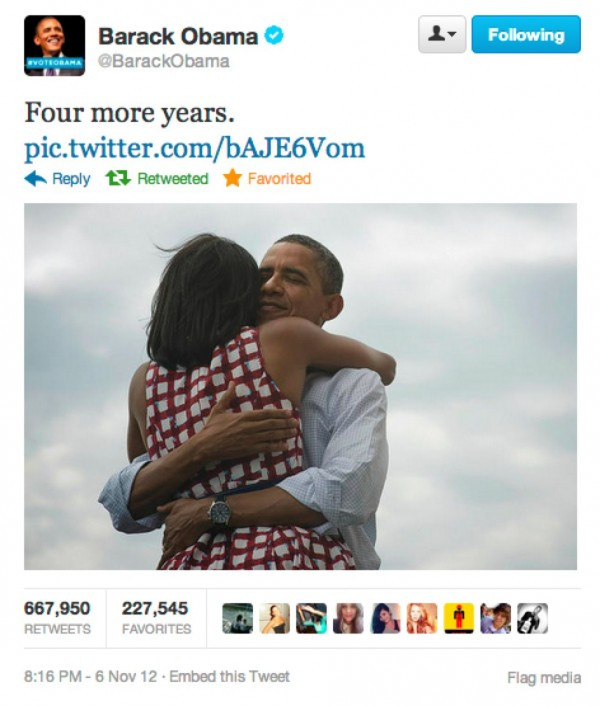 The former holder of the "most retweeted tweet of all time" crown. Obama's confirmation of another four years in office also goes to show the strength of how tech savvy a president he is. In winning the presidency in 2008 Obama used social media brilliantly to connect with the powerful young vote.
---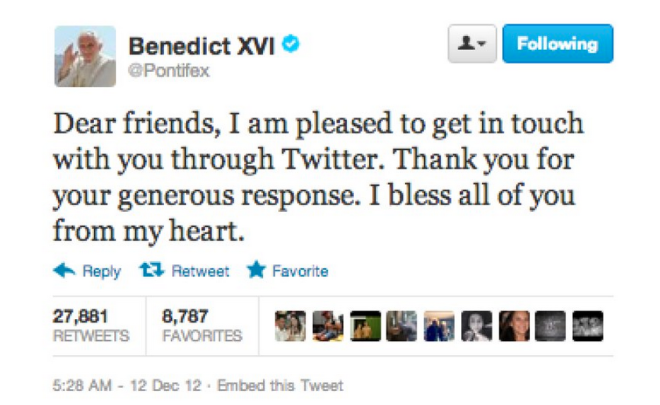 The very first tweet from "God's messenger on Earth". Can't God use twitter himself? Such a lazy deity. Pope Benedict resigned as pope only two months later, clearly bitten by the social media bug.
---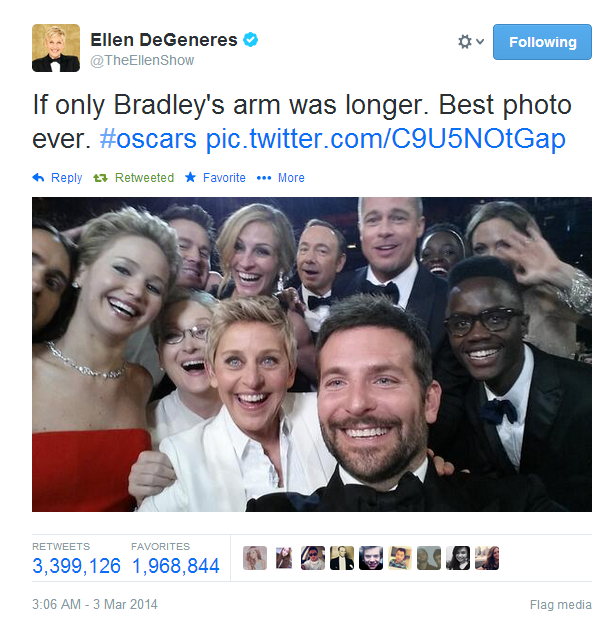 Well, of course this topped things off. At this year's Academy Awards Ellen DeGeneres decided she wanted to top Obama's tweet and so gathered some A-list buddies (and Lupita Nyong'o's cheeky brother) to take part in a selfie. It should be noted however that "Ellen's selfie" is actually Bradley Cooper's, as he's holding the camera.
It has so far been retweeted nearly 3.5 million times. Ludicrous.